Back to

News
Consider supporting Kesem during Giving Tuesday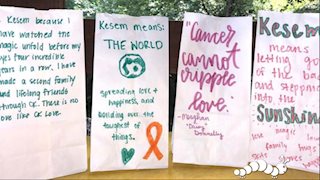 Ty Flynn, a senior in the West Virginia University School of Nursing and director for WVU's Camp Kesem, is asking for support for Kesem during Giving Tuesday on Nov. 29.
Kesem is a national nonprofit organization that provides free summer camps and year-round support for children, ages 6-18, who have been affected by a guardian's cancer. There are more than 130 Kesem chapters nationally, serving more 8,500 children.
Kesem at WVU is the only chapter in West Virginia, and the team hopes to serve 30 children at camp this year. During Giving Tuesday, a national day to encourage philanthropic donations, Kesem at WVU has set a goal to raise $12,000 to provide year-round support for campers.
"We're trying to get the word out," Flynn said. "We hope to raise $12,000 in one day, which is 30% of our total goal."
Students interested in supporting the event and receiving community service hours are welcome to join the efforts at the Mountainlair in the Mountaineer Room Nov. 29 from 7 a.m. to 9 p.m. The room will serve as a fundraising headquarters, where attendees can enjoy food, activities and resources needed to help fundraise.
"This isn't something that can be done with just a few people," Flynn said. "We need all hands on deck. Even if you can't give, please share our mission statement about why we do Camp Kesem."
Emma Hines, co-director of Camp Kesem at WVU, said information sharing is a great way to support the effort, even if someone can't support Giving Tuesday.
"Sharing our information that could potentially reach a camper or a volunteer, that is hugely beneficial," Hines said.
To make a donation, visit donate.kesem.org/wvu23. For more information, email wvu@kesem.org or thf0004@mix.wvu.edu.