Back to

News
Diversity & Society: Course encourages students to become comfortable with the uncomfortable
WVU - Spring 2022 Course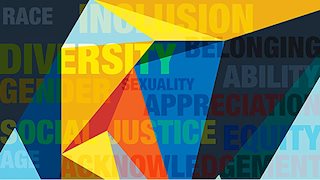 West Virginia University undergraduate and graduate students will have an opportunity to expand how they think about diversity, power, oppression, social justice and more.
Diversity & Society, DSGN 493B, CRN # 18357, is open to undergraduate and graduate students in all academic majors and there are no course prerequisites.
The three-hour credit course, offered through the WVU Davis College of Agriculture, Natural Resources and Design, is scheduled for the spring semester to be online synchronous on Tuesdays and Thursdays from 4 p.m. to 5:15 p.m.
The goal is to broaden the spectrum of the mind when it comes to Diversity, Equity and Inclusion and Justice. Students will be introduced to the many dimensions of diversity, including but not limited to differences in age, race, gender, sexuality and ability, and how belonging to one or more of those populations can have implications mentally, emotionally, physically and economically.
Course instuctor Toni Owens says Health Sciences students can especially benefit from the subject matter in Diversity & Society.
"Health Sciences students will likely be working with people - be it patients, clients or coworkers - who will be different in many ways," says Owens, a licensed graduate social worker. "To be able to pause and consider those differences will help you be of better service to them."
Throughout the course, JEDI (Justice, Equity, Diversity and Inclusion) professionals will share their expertise and special guests will share their experiences to make the course material come alive.
Owens, who is currently working on her Ph.D. in Human and Community Development at WVU, previously served as an assistant for Kansas State University's former Associate Provost for Diversity, Dr. Myra Gordon. Owens also helped advise the K-State Black Student Union's Freshman Action Team.