Back to

News
Eggleston to lead community health innovation at WVU Health Sciences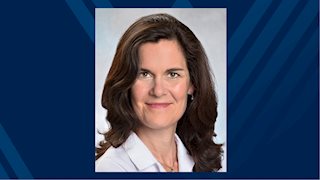 Lifestyle medicine expert Emma Morton-Eggleston, M.D., M.P.H., has been named associate vice president for community health innovation at West Virginia University Health Sciences.
Dr. Eggleston has served as associate vice president and dean of WVU's Eastern Campus since 2017. She is also director of the WVU Medicine Center for Diabetes and Metabolic Health, chief of diabetes and obesity prevention, and associate professor in the School of Medicine Department of Medicine, roles she will maintain following her appointment.
In this new position, Eggleston will strengthen the connection between WVU Health Sciences and communities served with the goal of improving the health and wellbeing of all West Virginians.
As the clinical lead on the West Virginia Joint Interagency Task Force for community health innovation, she will work with various state agencies on program development and implementation. She also will provide leadership in the development and coordination of community health and wellbeing initiatives with a focus on the primary health challenges facing the state, including mental health, substance use and cardiometabolic health.
Eggleston earned a medical degree and a master's degree in public health from the University of North Carolina, Chapel Hill. She completed her training in internal medicine at Brigham and Women's Hospital in Boston and an endocrinology fellowship at the University of Virginia in Charlottesville, where she conducted research in the microvascular actions of insulin and exercise in obesity and insulin-resistant patients.
She previously served as the director of the Brigham and Women's Hospital Division of Endocrinology Pregnancy Program, and endocrine director of the interdisciplinary Diabetes in Pregnancy Program. As a faculty member in the Department of Population Medicine at Harvard Medical School and the Harvard Pilgrim Health Care Institute, she engaged in health services research as a member of the Obesity Prevention Program and Drug Policy Research Program. She also served as director of teaching programs in the Department of Population Medicine and co-director of the Harvard Medical School Clinical Epidemiology and Population Health course.
---
-WVU-
CONTACT: Jessica Wilmoth
Senior Communications Specialist
WVU Health Sciences
304-293-9528; jessica.wilmoth@hsc.wvu.edu