Back to

News
Explore diversity in healthcare during Global Health Week at WVU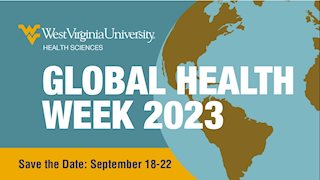 Sponsored by the West Virginia University School of Medicine Global Health Program and Health Sciences Global Engagement Office, Global Health Week will be held Monday, Sept. 18, through Friday, Sept. 22. Daily presentations will explore the war in Ukraine, global aging, diversity and equity in global healthcare and more. The series will be held in conjunction with Diversity Week hosted by the Division of Diversity, Equity and Inclusion Sunday, Sept. 17, through Saturday, Sept. 23.
Presentations will be held from noon – 1p.m. in HSC-North Room 1905 and on Zoom. WVU students, residents, faculty, staff and the Morgantown community are invited to attend. All events are free.
Register to attend in person and on Zoom. Lunch will be provided to those who register for in-person sessions by Sept. 15.
Full Schedule
Monday, September 18
"The War in Ukraine: Effects on Health," Sergiy Yakovenko, Ph.D., Associate Professor, School of Medicine; Alison Wilson, M.D., Professor and Chief of Trauma, Acute Care & Surgical Critical Care, School of Medicine; and Valeriya Gritsenko, Ph.D., Associate Professor, School of Medicine
Tuesday, September 19
"Commencing and Maintaining a Pediatric Heart Surgery Program for Developing Nations of the Caribbean: A Decade in Jamaica," Vinay Badhwar, M.D., Executive Chair, WVU Heart and Vascular Institute and Gordon F. Murray Professor and Chair, Department of Cardiovascular and Thoracic Surgery, School of Medicine
Wednesday, September 20
"Global Aging: How to Sustain our Social, Economic, and Health Systems," France Weaver, Ph.D., Associate Professor and Director of the Master of Health Administration Program, School of Public Health
Thursday, September 21
"Estonian Experience," Maleah Cline, Student, School of Nursing
"Equity and Disparity in the South African Healthcare System," Dixie Shahan, Pharm.D., Resident, Pharmacy Acute Care
Friday, September 22
"Professional and Personal Experiences with Diversity and Equity in Global Health," Internal Medicine Global Health Track Residents, Moderator: Josephine Reece, M.D.