Back to

News
Harnessing research insights, close to home: WVU Cancer Institute hosts the fifth annual Great Lakes Breast Cancer Research Symposium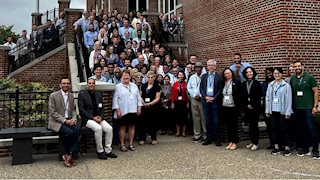 Known for providing great care, close to home, the West Virginia University Cancer Institute (WVUCI) expanded its mission to harnessing research insights close to home when it hosted the fifth annual Great Lakes Breast Cancer Research Symposium (GLBCRS) in Morgantown from Sept.10-12, 2023.
One hundred and seventy-seven people attended the symposium, representing institutions including WVUCI, Case Comprehensive Cancer Center (Case Western Reserve University), The James (The Ohio State University Comprehensive Cancer Center), Rogel Cancer Center (University of Michigan Health), and UPMC Hillman Cancer Center (University of Pittsburgh).
Talks revolved around five themes: risk factors, outcomes, and survivorship; tumor cell biology; immune evasion and immuno-oncology; cancer biomarkers, response prediction, and prognosis; and molecularly-targeted diagnostics and therapeutics.
In addition to these topics, participants discussed challenges and opportunities inherent in enrolling patients in clinical trials, and the gulfs between the genetic information we have and our ability to benefit patients with that knowledge and between the percentage of patients who are eligible for immunotherapy and the percentage of patients that benefit from it. Also of note was the symposium's involvement of cancer advocates, who shared their stories and chaired sessions. Multiple presenters noted the importance of involving cancer advocates throughout the research process.
Keynote speakers included Julio A. Aguirre-Ghiso, PhD, Rose C. Falkenstein Chair in Cancer Research, Professor of Cell Biology, and Founding Director of the Cancer Dormancy and Tumor Microenvironment Institute at the Montefiore Einstein Cancer Center, and Rakesh K. Jain, PhD, Andrew Werk Cook Professor of Radiation Oncology (Tumor Biology) at Harvard Medical School and Director of the Edwin L. Steele Laboratories at Massachusetts General Hospital.
WVUCI presenters included:
Nicole Stout, DPT, FAPTA: PROs and Functional Measures: Measuring What Matters in Translating Research to Practice
Emidio Pistilli, PhD: Targeting Muscle Fatigue in Breast Cancer with the PPARγ-Agonist Pioglitazone
Yehenew Agazie, DVM, PhD: Overcoming Neratinib Recurrence to Increase Survival
Abha Maskey, PhD trainee: The Role of KAP1 in HIF1B Transcription and Breast Cancer Metastasis
David Klinke, PhD: Rule-Based Modeling of How Oncogenic Gene Expression Locally Alters Heterocellular Networks
Maggie Bennewitz, PhD: Tumor Targeted Nano-Encapsulated Manganese Oxide (NEMO) Particles for Enhanced Breast Cancer Detection Using MRI
Heather L. Hansen, PhD trainee: Isoform-Specific Roles of Phosphofrucktokinase-1 in Cancer Cell Proliferation and Migration
The collaboration within WVUCI was on full display, with multiple WVU schools represented, including the School of Public Health (Stout) School of Medicine (Pistilli, Agazie, Klinke), and the Benjamin M. Statler College of Engineering and Mineral Resources (Bennewitz).
WVU trainees were well-represented at the awards podium. Alexis Gorman from the Bennewitz Lab won third place in the poster presentation for the basic science category, and Heather Hansen from the Webb Lab and Abha Maskey from the Pugacheva Lab tied for third place for their oral presentations.
"We were delighted to host researchers, clinicians, and trainees at the GLBCRS this year," said Hannah W. Hazard-Jenkins, MD, FACS, Director, WVU Cancer Institute and Associate Professor of Surgery, West Virginia University School of Medicine. "It was inspiring to hear about the work that's being done across the Great Lakes region, and I'm looking forward to seeing what collaborations come out of it."
MEDIA CONTACT: Cara Gillotti
Health Research Writer
WVU Cancer Institute
617-955-6528 cara.gillotti@hsc.wvu.edu