Back to

News
Health Sciences Town Hall to focus on One Mountaineer Family
Special Guest: Meshea L. Poore, Vice President for Diversity, Equity and Inclusion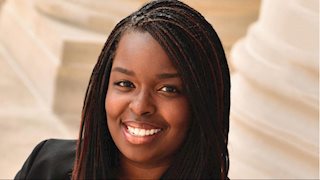 Meshea Poore, vice president for the Division of Diversity, Equity and Inclusion at WVU, will be the special guest at a Health Sciences Town Hall during WVU's Diversity Week celebrations. All University and WVU Medicine faculty, staff and students are invited to this open forum set for Tues., Oct. 2 at noon in Okey Patteson Auditorium at the WVU Health Sciences Center. The forum will be hosted by WVU Vice President and Executive Dean for Health Sciences Clay Marsh, M.D. and will focus on our mission of One Mountaineer Family.
Poore, long-time activist and champion of under-represented people, leads WVU's Division of Diversity, Equity and Inclusion that works across campus to ensure a safe and inclusive environment, based on the belief that all students and employees, regardless of their backgrounds, race, sexual orientation or religious preference, deserve to benefit from a diverse learning environment. The Division's efforts include creating, coordinating, administering and evaluating programming that is inclusive and supportive in order to achieve a sustainable environment that will attract and retain diverse and underserved faculty, staff and students.
Poore previously worked as an attorney in the West Virginia House of Delegates from 2009 to 2014 and was in private practice in Charleston where she also served as president of the West Virginia State Bar. In addition to practicing law, Poore has worked with the People for the American Way in Washington, the Charleston YWCA, as an adjunct professor at West Virginia State University, faculty in residence at Rutgers University and a director and debate coach for the West Virginia Democratic Party.
Much of the session will be a Q&A with audience members.
The session will be available online for those who cannot attend in person: http://www.hsc.wvu.edu/live-feed.