Back to

News
Lynch honored with David H. Wilks Memorial Award for Excellence in Simulation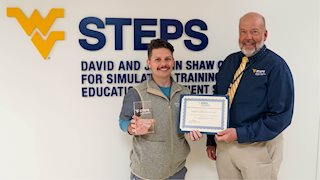 Dr. Joseph Lynch has been named the recipient of the 2023 David H. Wilks Memorial Award for Excellence in Simulation. Lynch is an assistant professor in the School of Medicine Department of Pediatrics and director of pediatric simulation.
Created in honor of the late Dr. David H. Wilks, who led the foundation of the David and Jo Ann Shaw Center for Simulation Training and Education Patient Safety (STEPS) at WVU Health Sciences, the award acknowledges the dedication of faculty who set high standards in teaching and learning at STEPS.
"I'm extremely grateful and honored to be selected as the recipient of this award," Lynch said. "Simulation based education is my passion and has provided me an academic home within WVU. I'm grateful to STEPS for their support, and I'd also like to acknowledge Dr. Chris Kiefer for his mentorship and assistance in my development into the simulationist and educator I am today."
In his role as a pediatric hospitalist, Lynch has been selected by residents in the Departments of Pediatrics and Emergency Medicine for several teaching awards in recognition of his efforts to provide advanced simulation experiences in STEPS and the clinical environment. His expertise was critical as the pediatrics team prepared to safely move into the new WVU Medicine Children's Hospital, conducting daily simulation scenarios to ensure the department had access to and could locate necessary equipment and was prepared for emergency situations.
In a nomination letter, Dr. Jeffrey Lancaster, associate professor and chief of the Division of Pediatric Hospitalist Medicine, stated: "Dr. Lynch has been a role model for our trainees and faculty – he does the right things for the right reasons. He has done all of this to educate learners and to improve the quality and safety of our hospital."
"Simulation is incredibly important for all healthcare professionals regardless of experience or level of training," Lynch said. "I view simulation as applied patient safety. We have the ability to create highly realistic scenarios that provide invaluable experience to learners in a zero-risk environment. Learners can practice procedures, teamwork, technical and interpersonal skills they will use to serve patients, in an environment where missteps can be discussed and strengths reinforced. From a systems standpoint, we can develop scenarios to help bolster our areas in need of improvement and build stronger interprofessional, interdepartmental and interpersonal relationships."
This is the third year the Wilks Award has been presented. Winners are announced annually during Healthcare Simulation Week.
STEPS is a state-of-the-art center for experiential learning, simulation and patient safety. By providing a safe learning environment with fully responsive technology, students are safer and smarter before encountering patients in everyday and critical care situations.
Photo at Top: Dr. Joseph Lynch (left) receives the 2023 David H. Wilks Memorial Award for Excellence in Simulation from Dorian Williams, assistant dean for technology and simulation. The award is presented annually by the WVU Health Sciences David and Jo Ann Shaw Center for Simulation Training and Education for Patient Safety (STEPS) during Healthcare Simulation Week.