Back to

News
Multi-organization partnership works to improve access to nurse-led care in rural Mingo County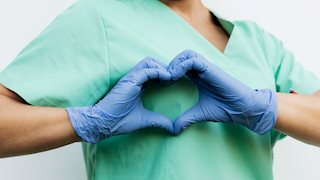 Through a partnership between the West Virginia University School of Nursing, the Pallottine Foundation of Huntington and local churches, access to nurse-led care is being established in rural Mingo County.
Five nurses trained through the Faith Community Nursing initiative — Stephanie Hatfield, Brandi Steele, Amber Marcum, Nicole Messer and James Messer — will be working with churches in their respective communities to offer healthcare screenings, education, connection to resources and much more.
"We know in West Virginia most rural communities have a church," said Dr. Angel Smothers, a clinical associate professor with the WVU School of Nursing. "The church has been an underutilized resource for gaining access to education, screenings and support by nurses. Faith community nursing helps bridge that gap by using faith community settings to serve as access points for nurse-led care."
The Pallottine Foundation of Huntington recently provided support to the development of nurse-led programs within Mingo County. These funds were awarded through a $50,000 grant through the Health Communities Initiative for a year-long project. Nurses were trained in Fall 2022, and they are ready to begin providing services.
Delivering Care in Kermit
James and Nicole Messer will begin working with the congregants of Jenny's Creek Gospel Church, as well as members of the Kermit community, immediately after the Sunday morning service March 12.
The kickoff event will feature blood pressure readings, but in the weeks to come, they hope to offer educational activities on self-care, stress management, healthy eating, heart health and more.
"I wanted to participate in the Faith Community Nursing course so that I could combine spiritual practice and my nursing to take care of the whole person," said Nicole, of Ravenswood, who has worked in long-term care, orthopedics, neurosurgery and mental health. "My hopes are that we can help people's health improve and assist them with opportunities and make their situations a little easier."
James, who began his career as an LPN and now hold his Master of Science in Nursing, also said he wanted to give back to his community to help those who are facing multiple health disparities.
"My hope is that, together, we can educate and help people," James said. "The pastor and his wife join us in our excitement about starting the program."
Establishing Trust in Delbarton
Hatfield, Steele and Marcum will be working with Delbarton Church of God to meet the health needs of their community. They will officially begin their work March 15 at 5:15 p.m. with a health fair, which will offer vital signs, height and weight, and blood glucose checks. They will offer these baseline assessments and determine what educational needs exist.
"I wanted to participate in faith community nursing to try to educate more people in our small community about healthcare options that are available," said Steele, originally of Chauncey, who works both as a nurse in a pediatric clinic and alongside a podiatrist. "I also wanted to help connect community members with providers or at least get them on the right track to getting the care they need."
A major goal for Steele and Hatfield is to earn the trust of community members so they can help them to the fullest extent possible.
Hatfield, of Matewan, currently works at Williamson Health and Wellness Center as the Quality Coordinator. She wanted to participate in faith community nursing to further her education and to reinvest in her community.
"As I look back on my almost 23 years of a nursing, I have touched so many lives. I have been blessed to be the one there when they have nobody else, when they are dying and just want somebody near, or just to take the extra few minutes to listen to them in a world that is so fast paced," Hatfield said. "To be able to integrate faith and nursing together is great way to be able to help the people within the community that I live. There is such a need in Mingo County for faith community nurses. I pray I can serve my community well."
Building Lasting Bonds
Not only are these nurses working to deliver care, but they are also developing strong community partnerships with other healthcare providers and organizations within the area. Further, they are integrating nursing students and high school students as volunteers.
"With the nursing shortage, we're looking ahead to identify people who have an interest, then providing them with mentorship and support as they consider nursing as a profession," Smothers said. "These learning opportunities will further underscore the importance of service-learning and hopefully pique interest in nursing for high schoolers."
The faith community nursing initiative aims to continue expanding all throughout rural West Virginia. Additionally, the initiative is working to establish telehealth opportunities within churches to connect patients without transportation to providers outside the county.
Anyone interested in learning more about the Faith Community Nursing course and how to build a nurse-led program within their faith community is asked to contact Dr. Angel Smothers at asmothers@hsc.wvu.edu.
-WVU-
CONTACT: Wendy Holdren
Director of Communications and Marketing
WVU School of Nursing
304-581-1772; wendy.holdren@hsc.wvu.ed