Back to

News
Nationally recognized lifestyle medicine expert named dean at WVU Eastern Campus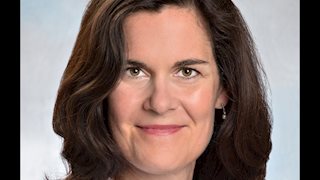 MORGANTOWN, W.Va. — Diabetes and endocrinology expert Emma B. Morton-Eggleston, M.D., M.P.H., was recently named associate vice president of Health Sciences and dean of West Virginia University's Eastern Campus. She has been serving in an interim role following the retirement of former dean and associate vice president, Konrad C. Nau, M.D., in August.
Dr. Eggleston is also director of the newly established WVU Center for Diabetes and Metabolic Health. In addition to patient care and clinical outreach, she serves as the Quad Graphics chair of internal medicine research on WVU's Eastern Campus.
"I am looking forward to fostering the tremendous potential for innovation in education and clinical care here in the Eastern campus and to joining the remarkable efforts underway across the state to improve the health of all West Virginians," Eggleston said. "The best part of this work is partnering and learning together as we build."
The 2017 United Health Foundation's report on America's Health Rankings ranks West Virginia 46 out of 50 states in overall health; 50th in poor mental and physical health days; 49th in cancer deaths; 50th in obesity and diabetes; 50th in drug deaths; and 43rd in cardiovascular deaths. The majority of these conditions are influenced by health behaviors and the social determinants of health including access to healthy food, recreation, steady employment and strong engaged families and communities.
By combining state-of-the-art medical care with the four pillars of food, exercise, sleep and stress reduction, and an emphasis on community connection, the Center aims to prevent, treat and reverse diabetes and metabolic disease such as high blood pressure, high blood sugar, and abnormal cholesterol or triglyceride levels that occur together, increasing the risk of heart disease, stroke, cancer and diabetes.
"Dr. Eggleston's innovative accomplishments in diabetes care and in population health are helping to drive the advancements needed to address West Virginia's burden of obesity and diabetes," WVU Health Sciences vice president and executive dean Clay Marsh, M.D., said. "Not only is she leading the Center for Diabetes and Metabolic Health, she's establishing community partnerships and developing creative curricula that educate medical and health sciences students in the most advanced treatment and care methods."
Eggleston earned a master's degree in public health and a medical degree from the University of North Carolina, Chapel Hill. She completed her training in internal medicine at Brigham and Women's Hospital in Boston and an endocrinology fellowship at the University of Virginia in Charlottesville, where she conducted research in the microvascular actions of insulin and exercise in obesity and insulin resistant patients.
She previously served as the director of the Brigham and Women's Hospital Division of Endocrinology Pregnancy Program, and endocrine director of the interdisciplinary Diabetes in Pregnancy Program. As a faculty member in the Department of Population Medicine at Harvard Medical School and the Harvard Pilgrim Health Care Institute, she engaged in health services research as a member of the Obesity Prevention Program and Drug Policy Research Program. She also served as the co-course director of the Harvard Medical School Clinical Epidemiology and Population Health course and director of teaching programs at the Department of Population Medicine.
Dr. Eggleston's research interests are in the intersection between mental health, diabetes, and substance use, the impact of health insurance designs on diabetes outcomes and inequalities, and innovative uses of electronic health records for health system and public health surveillance of diabetes and its complications.
She participated in The Weight of the Nation, a joint presentation of HBO and the Institute of Medicine, that included a four-part documentary series, each featuring case studies, interviews with the nation's leading experts, and individuals and their families struggling with obesity.
For news and information on the WVU School of Medicine, follow us on twitter @WVUMedSchool, like us on Facebook or visit medicine.hsc.wvu.edu.