Back to

News
Nau to retire as vice president and dean of WVU's Eastern Campus; Eggleston to serve as interim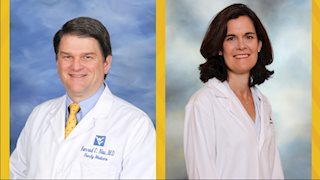 MARTINSBURG, W.Va. – Konrad C. Nau, M.D., associate vice president for health sciences and dean of West Virginia University's Eastern Campus, has announced that he will retire from the University this summer.
Dr. Nau, a specialist in family medicine and geriatrics, has led the University's health programs in West Virginia's Eastern Panhandle since 2012, and has served patients in the region since 1982.
"K.C. Nau has been a teacher and mentor to medical students and residents throughout the entire history of the University's involvement with healthcare in the Eastern Panhandle," said Clay B. Marsh, M.D., WVU vice president and executive dean for health sciences. "Under his leadership, we have greatly advanced health professions education, patient care and research in this growing region of our state."
Nau's responsibilities included leadership of the physician practice group for WVU School of Medicine faculty in the Eastern Panhandle, and membership on the board that governs WVU Medicine hospital facilities in the area. He is recognized nationally as an innovator and leader in training rural health, family medicine and geriatric practitioners.
Emma Morton-Eggleston, M.D., M.P.H., has been appointed to serve as interim associate vice president of Health Sciences and dean of WVU's Eastern Campus.
Dr. Eggleston, a diabetes and endocrinology expert, currently serves as the chief of diabetes and obesity prevention and co-director of the WVU Center for Diabetes and Metabolic Health. In addition to patient care and clinical outreach, Dr. Eggleston is also the Quad Graphics chair of internal medicine research on WVU's Eastern campus. Eggleston will hold the interim positions while a search is conducted.
For news and information on the WVU School of Medicine, follow us on twitter @WVUMedSchool, like us on Facebook or visit medicine.hsc.wvu.edu.
—WVU—
TS: 06/28/2017
Contact:
Tara Scatterday
Director, Communications and Marketing
WVU School of Medicine
304-293-0630 | tdscatterday@hsc.wvu.edu