Back to

News
NEI grant provides funding for vision research into early Alzheimer's disease diagnoses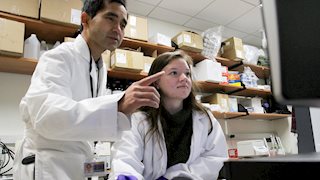 A West Virginia University School of Medicine researcher is conducting vision research that he hopes can lead to earlier diagnoses of Alzheimer's disease thanks to a new grant, awarded by the National Eye Institute, National Institutes of Health.
Jianhai Du, Ph.D., an associate professor for the Departments of Ophthalmology and Visual Sciences and Biochemistry and Molecular Medicine, explained that prior to the neurological changes associated with Alzheimer's disease, many patients will experience visual defects, such as vision loss. This has resulted in researchers looking towards the eye as a diagnostic tool.
Through this grant, Dr. Du is specifically studying retinal mitochondrial metabolism.
"The discovery of these early-stage metabolic changes between eye tissues and the brain serves as a strong foundation for us to take this research even further and will hopefully allow us to develop novel strategies for early detection and treatment of this disease," Du explained.
Du said that in addition to the early detection of Alzheimer's Disease, he is also hoping the research can lead to treatments to stop vision loss among Alzheimer's patients.
Du first began this research in 2022, when he served as a mentor to a senior chemistry major in the Eberly College of Arts and Sciences. Together, he and the student used a technique called mass spectrometry, which measures the mass-to-charge ratio of one or more molecules, in order to identify key changes in the biochemical processes within the eyes and brains of Alzheimer's disease model mice.
The one-year grant will provide $380,000 of funding, with Du serving as the principal investigator. Du said that he plans to continue to work with students in his lab, explaining that participation in such valuable research can be a crucial educational opportunity for students.
"For a young researcher, being able to directly contribute to research like this can be invaluable," Du said. "I'm looking forward to working with students in my lab, and to taking some large steps towards the diagnosis and treatment of this disease."
To learn more about the vision research opportunities within the Department of Ophthalmology and Visual Sciences, medicine.hsc.wvu.edu/eye/research/vision-research.