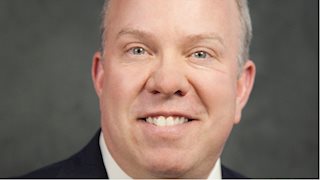 MARTINSBURG, W.Va. – Dean Thomas, M.B.A., M.H.S.A., F.A.C.H.E., has been named the new president and CEO of WVU Hospitals-East, which includes Berkeley Medical Center and Jefferson Medical Center.
"Dean is an accomplished leader whose distinguished career in healthcare spans more than two decades, and we are pleased to welcome him to WVU Medicine," Albert L. Wright, Jr., president and CEO of the West Virginia University Health System, said. "His appointment continues the trend of top healthcare administrative and clinical talent wanting to come to West Virginia to be a part of our healthcare system."
Thomas comes to WVU Medicine from Froedtert Health in Milwaukee, Wisconsin, where he served as senior vice president of service lines and network development. He also held senior-level leadership positions at Honor Health in Scottsdale, Arizona, and Ochsner Health System in New Orleans, Louisiana.
Thomas holds a Bachelor of Science in Marketing, Master of Business Administration, and Master of Health Services Administration from Arizona State University. He is a Fellow of the American College of Healthcare Executives and has been active in several charitable and civic organizations.
"I look forward to leading such a strong team at WVU Hospitals-East supported by the highest quality healthcare brand in West Virginia in WVU Medicine," Thomas said.
Thomas succeeds Anthony P. Zelenka, who retired in June after 12 years of service with WVU Medicine. He will join WVU Medicine in October.
–WVU MEDICINE–
For more information:
Teresa McCabe, Vice President of Marketing & Development, 304-264-1223,
tmccabe@wvumedicine.org
20-Aug
TEM: 08-03-20