Back to

News
Town hall to focus on critical care and trauma
Tues., July 11, noon in Okey Patteson Auditorium, WVU Health Sciences Center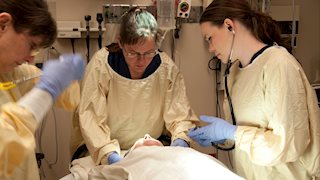 Critical care and trauma specialist, Alison Wilson, M.D., will be the special guest at an open forum for Health Sciences and WVU Medicine faculty, staff and students at noon on Tuesday, July 11, in the Okey Patteson Auditorium of the WVU Health Sciences Center. The topic will be, "WVU Critical Care and Trauma Institute: Who we are and what we do."
Dr. Wilson is the director of the WVU Critical Care and Trauma Institute and the Skewes Family Chair for Trauma Surgery. She leads a team that cares for more than 3,000 trauma patients each year. Her team treats patients who arrive directly from the scene of an accident and those who suffer from catastrophic life-threatening illnesses, such as systemic infections (sepsis), severe drug overdoses, respiratory failure, kidney failure and multi-system organ failure.
West Virginia has some of the highest rates of motor vehicle and ATV-related deaths, fatal occupational injuries, and the highest rate of accidental poisoning deaths, which include overdoses.
The Institute for Critical Care and Trauma is working to reverse those trends and was developed to promote research, education, outreach, injury prevention, and improved patient care, in both pre-hospital and hospital settings, in the areas of trauma, emergency care, and care of the critically injured or ill patient. The Institute also provides expertise in the design and implementation of systems of care for the "sickest of the sick" patients.
She will be hosted by WVU Vice President and Executive Dean for Health Sciences Clay Marsh, M.D., and West Virginia University Health System President and CEO Albert L. Wright, Jr., and will discuss the neuro-ICU, development of the rapid response team, safe haven, our military affiliation programs and the development of the Comprehensive Critical Care and Trauma Education Program. Much of the session will be a Q&A with audience members.
The session will be available online for those who cannot attend in person: http://www.hsc.wvu.edu/live-feed.