Back to

News
WV STEPS features diverse manikin, standardized patients for students to gain experience working with diverse populations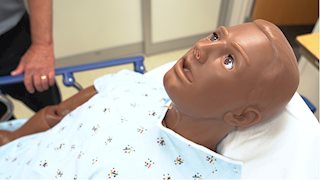 The West Virginia University (WVU) David and Jo Ann Shaw Center for Simulation Training and Education for Patient Safety (STEPS) now features more diverse manikin and standardized patients to better prepare Health Sciences students to work with patients from different backgrounds.
STEPS is a state-of-the-art center for experiential learning, simulation and patient safety. By providing a safe learning environment with fully responsive technology, students are safer and smarter before encountering patients in everyday and critical care situations. STEPS provides educational support for all of the schools within the Health Sciences Center.
STEPS now has three manikin with darker skin tones — an infant, a child and an adult that STEPS Center received this year. Faculty members have written cases for the manikins to develop more diverse scenarios and backgrounds.
"It is important to have these diverse manikin to work on because we are trying to create a welcoming and safe environment for all of our learners," said Daniel Summers, Director of STEPS. "Our goal is to make sure we are sensitive to the needs of all. Everything we do here is about patient safety; if we can portray that here, then the hope is that it will carry over into the students' clinical setting."
STEPS is also working to recruit more diverse standardized patients. A standardized patient is a real person role-playing a realistic clinical situation to help healthcare students learn and/or evaluate clinical skills. They are people from the community who have indicated an interest and are accepted based on their communication skills.
"It is important for the students to experience a diverse patient pool in order to develop cultural competence on a safe environment," said Lee Ann Miller, Assistant Director of Education at STEPS. "Adding individuals from varying cultural backgrounds will provide better perspective on unique healthcare related experiences and improved outcomes for future patients."
Standardized patients are important for training and safety because it gives students an opportunity to get a feel for human interaction. Practice with diverse standardized patients at the STEPS Center will translate to real world work, Miller explained.
The STEPS Center is currently seeking racially diverse standardized patients. Standardized patient pay rate is $20/hour, $15/hour for ultrasound, and $100/hour for invasive exams. Hours are sporadic and usually between 8 a.m. and 5 p.m. weekdays. If you are interested in becoming a standardized patient, call Lee Ann Miller at 304-293-5533.
In addition to racial diversity efforts, STEPS recently completed a simulation with a transgender patient. A WVU Internal Medicine residency program piloted the first transgender-focused primary care telemedicine simulation in the STEPS Center.
"Different faculty have been developing scenarios like this transgender telemedicine simulation to increase the awareness and enhance the ability of our students to be able to communicate, regardless of background," Summers said. "If our patients are not comfortable with the communication, then they just shut down so that is important for us to communicate effectively."
Summers said effective patient communication is essential.
"The No. 1 cause of medical errors is miscommunication; it is important that our students know how to communicate with patients of all backgrounds."
-WVU-