Back to

News
WVU, CDC report mask observation results for week four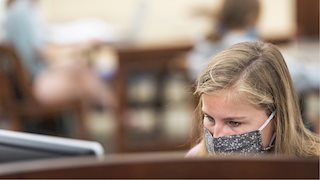 In an ongoing effort to increase the proportion of people who use masks correctly, the School of Public Health and Centers for Disease Control and Prevention reported the findings for week four in their seven-week mask observation study that began Oct. 5.
Of the 479 individuals who were observed throughout the week of Nov. 2, 84.3 percent wore masks – identical to the previous week – and of that percentage, 84.2 percent wore them correctly, representing a slight decline compared to last week's report.
The primary purpose of the study is to estimate the percentage of people within the West Virginia University community wearing masks correctly, as observing mask use can assist universities with determining the adherence among students, faculty and staff to inform public health decision-making.
Use of face masks has been shown to reduce transmission of SARS-CoV-2, the virus that causes COVID-19.
As noted on WVU's Return to Campus site, wearing a mask in a public place not only helps keep viruses out of the air, but it also reminds you not to touch your face – as demonstrated in this video tutorial by School of Public Health Associate Professor Steve Davis, PhD.
The eight Public Health students who underwent mask observer training will continue to conduct observation sessions through Nov. 22.
Related resources, including data for weeks 0-4, can be found below.
Mask observation data, weeks 0-4:
*A portion of the data for Week 1 was submitted after the reporting period had ended. This information has now been updated to reflect the most current data.