Back to

News
WVU Charleston professor named "Power Player" by Becker's Hospital Review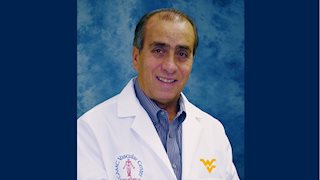 West Virginia University School of Medicine professor Ali F. AbuRahma, M.D., has been named one of "5 Cardiology Power Players" by Becker's Hospital Review in a recent news release. Dr. AbuRahma is professor of surgery, chief of vascular and endovascular surgery and director of the vascular surgery fellowship and integrated residency programs at the WVU Health Sciences Charleston Campus in Charleston, W.Va.
As an established editor and reviewer over the course of his impressive career, AbuRahma has earned a reputation as a skilled surgeon, prolific researcher and respected educator, publishing more than 275 articles, 200 abstracts, 125 book chapters and eight textbooks related to vascular surgery. He has served on the editorial board of the Journal of Vascular Surgery, Annals of Vascular Surgery, Journal of Endovascular Therapy, Journal of Vascular and Endovascular Surgery and Vascular Specialist. Additionally, he is the associate editor of the Vascular journal and a reviewer for several other medical journals. He is also an associate editor of the 8th, 9th and 10th editions of Rutherford's Textbook in Vascular Surgery.
He also serves as the medical director of the vascular laboratory and co-director of the Vascular Center of Excellence at Charleston Area Medical Center.
AbuRahma joins cardiologists from Washington, D.C., Dallas, Texas, and Durham, North Carolina, recognized for their contributions in the field of medicine.
The honor is one of many for AbuRahma, who began his one-year presidency term in June for the Society for Vascular Surgery. His term will end when he gives his Presidential Address at the 2022 Vascular Annual Meeting to be held in Boston, Massachusetts.
Becker's Healthcare is considered a go-to source for healthcare decision-makers and one of the fastest growing media platforms in the industry. Through print, digital and live event platforms, Becker's Healthcare equips healthcare leaders with the information and forums they need to learn, exchange ideas and further conversations about the most critical issues in American healthcare.