Back to

News
WVU dental school celebrates 2022 scholarship recipients
50 awards handed out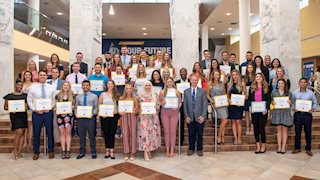 Congratulations to the September 2022 scholarship recipients at West Virginia University School of Dentistry. Special thanks to the contributors who help our future dentists and hygienists forge new paths to success. You can help fuel their rugged determination with your passionate support.
Donations can be made online at give.wvu.edu/dentistry.
View a photo gallery from the event on our SmugMug page.
Melissa Carlson Armstrong Memorial Dental Hygiene Scholarship
Erin Chopak
Dr. Camillo Alberico Scholarship
Autumn Gossard
Norman H. and Nathan P. Baker Scholarship
Kent Digwe
Jaliyah Hubbard
Bouquot Scholarship for Excellence in Research
Bailey Aab
Ashley Faddis
Brittany Joseph
Lauren Srivastava
Thelma M. Boyers Scholarship
Bailey Aab
Kyle Bird
Allison Fritz
Cole Lanier
Logan Webb
Champe O. Butler Sr. Dental Scholarship
Brianna Bevil
Linda S. Edwards, RDH, BS, MS, Dental Hygiene Scholarship
Savannah Lahey
Michael Christensen, Thomas P. Patrick & William Shelton DDS Class of 1976 Scholarship
Laura Burrows
Dr. Clarence C. and Maxine D. Cottrill General Dentistry Scholarship
Dakota Bailey
Dr. John H. Dempsey Orthodontic Scholarship
Dr. Adam Rudmann
Dr. David G. Edwards Dental Scholarship
Austin Perdue
Dr. Patrick J. Farace Memorial Scholarship
Logan Webb

Margaret J. Epperly Endowment Scholarship
Darcie Trotter
*Dr. Richard L. & Dr. Edward E. Howard Scholarship
Thomas Stanley
Class of 1970 Dr. S. Phillip F. Farley Memorial Scholarship
Matthew Ogershok
Gregory Traver
Frieman/Wilner Dentistry Scholarship
Grant Hodges
Dr. Mohssen and Karen Ghalichebaf Cleft Lip/Palate Scholarship
Brittany Moleta
Ghareeb Dental Group Scholarship
Eamonn Cronin
James A. Griffin Scholarship
Dr. Leslie P. Wolford
Judith Grubb Dental Hygiene Scholarship Award
Lauren Burnside
John W. Hatcher Memorial Scholarship for Dentistry
Allison Fritz
Sabe Isaac and Rose Mary Howard Memorial Scholarship
Kyle Bird
Simon P. Hullihen Memorial Award
Cole Lanier
Nick Xie
Kanawha Valley Dental Society Scholarship
Bailey Aab
McMechen-Hock Family Scholarship for Dental Hygiene
Lauren Byrnside
Dr. Carl Lemley and Mary Eugenia Kennedy Family Scholarship
Carson Cochran
Dr. Matthew Mathias Scholarship
Samantha Phelix
Dr. Jeffrey Scott McCoy Memorial Dental Scholarship
Robert Gilbert
Momen Scholarship
Hunter Palmer
Samantha Phelix
Mary F. Sanders Memorial Dental Hygiene Scholarship
George Harris
Thomas P. Moore Dental Scholarship
Jason Collett
Othman Family Scholarship
Brittany Lewis
Panagakos Scholarship
Callaway Anderson
Alison Brooke King
Avery Smith
Ralph J. "Buck" Rutledge Dentistry Scholarship
Shelbey Groves
Lisa A. Smith Memorial Merit Scholarship
Megan Merritt
Dr. David E. Sheinkopf Scholarship
Kyle Rideout
Dr. Shellenberger Dentistry Scholarship
Ashley Faddis
Dr. Elliot Shulman Dental Scholarship
Blake Bachner
Skaff Family Scholarship
Austin Roop
Imbrogno Spears Scholarship
Allison Fritz
Boyd A. Smoot Memorial Scholarship
David Carvajal
Ann Vargo Rogers Scholarship
Kayla Clark
Dr. Frank Stevens Student Scholarship
Madison Anderson
Hillary Hainer
Anthony Nguyen
John Wilfong
John L. and Hazel L. Sutton Scholarship
Chance Shears
Madison Smith
Chelsea Workman
David C. Swann, DDS Class of 1980 Scholarship
Sydney Allman
*W. Christopher and Gina Ann Taylor Scholarship
Elizabeth Labuda
Margaret Howard Teeter Dental Scholarship
Jonathan Gore
Dr. Nancy Burton Waitkus Dental Scholarship
Sarah Spencer
Geraldine Core Willis Scholarship
Laura Burrows
West Virginia Dental Tuition Waiver
Adam Fleckenstein
Anna Hayton
Mays Ibraheem
Caitlin Murphy
Grace Myers
Logan Webb
Hunter Wright
WVU School of Dentistry Alumni Association Instrument Award
Sofia Karamolegkou
Dennis "PJ" Zickefoose Memorial Scholarship
Hunter Palmer