Back to

News
WVU Occupational Therapy program to host open house session for prospective students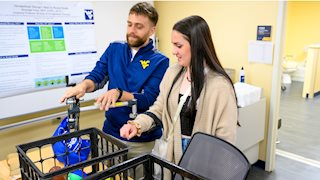 Students interested in learning more about WVU's Occupational Therapy programs are invited to meet faculty and current students at an open house event on Sunday, October 1 from 2-4 p.m. in room 1202 HSC-South.
Sessions are intended for college students planning to apply to the Master of Occupational Therapy program or the Occupational Therapy Doctorate. Sessions will also appeal to all college-level students interested in exploring the degrees or the admissions process for applying.
During the open house, students will have the opportunity to tour the facilities, participate in hands-on learning stations, meet the admission team and learn more about career opportunities.
To register for the session, visit https://medicine.wvu.edu/ot/open-house/.
About WVU Occupational Therapy
Occupational therapy students at WVU receive the benefits of hands-on classroom, community and clinical experiences that prepare them to practice in the exciting rehabilitation field of occupational therapy.
Occupational therapists help people function in all of their environments including home, work, school and community through the use of therapeutic everyday activities. In addition, occupational therapists address the physical, psychological and cognitive aspects of their well-being through patient engagement.
As part of the School of Medicine, occupational therapy students have access to an abundance of inter-professional learning activities as well as educational resources that include:
Cutting edge acute care simulation lab
Anatomy lab cadaver dissection
Faculty practice clinic
Current tools for assessment and intervention