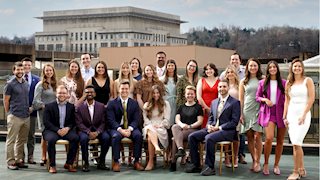 Medical students at the West Virginia University School of Medicine's Charleston Campus came together in a Match Day ceremony on March 18 at noon, where they received and opened envelopes revealing where they'll spend the next three to five years of their residency training.
Like thousands of fourth-year medical students across the country – including their classmates at WVU in Morgantown and SOM Eastern Campus, WVU Charleston Campus medical students read letters from the National Resident Matching Program, a private, not-for-profit corporation established to provide a uniform date of appointment to positions in graduate medical education in the U.S., experiencing what many call the most pivotal moment of their medical education.
This year's Match Day was especially noteworthy for the Charleston class. All current students successfully matched, meaning they were accepted into their first or second choice program.