Back to

News
WVU School of Medicine inducts students, residents and faculty into Gold Humanism Honor Society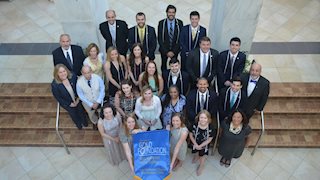 In recognition of their compassion in the practice of medicine, 15 medical students, four residents and two faculty members were inducted into the West Virginia University School of Medicine's chapter of the Gold Humanism Honor Society at a ceremony held on Sat., June 3 at the WVU Health Sciences Center.
The Society promotes humanism and professionalism throughout the continuum of physician education from the first day in medical school until retirement from medical practice. The faculty takes great pride in training respectful and compassionate physicians in conjunction with their rigorous training. Individuals who demonstrate integrity, excellence, compassion, altruism, respect, empathy and service are honored by induction into the society.
These individuals were nominated by their peers by answering a series of questions including, 'who would you want as your own personal physician?' and 'who would you want to care for a loved one like your own mother?'
The ability to recognize and attend to the personal needs of a patient is as essential in medicine as providing the most technologically advanced procedures and care. Relieving the suffering of a fellow human being – physical, social, emotional or spiritual – not just eradicating the disease or treating the injury, marks a compassionate physician.
This message is carried into communities across West Virginia through the outreach programs and projects sponsored by the School of Medicine. West Virginia is the only state where all counties are included in Appalachia, and the School's training in cultural diversity includes a unique module on the socioeconomic and social mores of this population.
The WVU chapter of GHHS also works closely with the Health Sciences Center Faculty Development office to engage faculty in all health sciences disciplines such as nursing, dentistry, pharmacy and public health in role modeling and educating health professionals in the area of humanism.
The Gold Humanism Honor Society at West Virginia University School of Medicine was founded in 2008 by six faculty members with more than 140 years of collective service to the School and to the people of West Virginia. The WVU Chapter was made possible with a grant from The Arnold P. Gold Foundation.
-WVU-
Contact:
Tara Scatterday
West Virginia University School of Medicine
Director, Communications and Marketing
tdscatterday@hsc.wvu.edu | 304-293-0630