Back to

News
WVU School of Nursing announces two new student ambassadors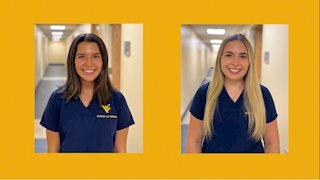 The West Virginia University School of Nursing proudly announces its newest Morgantown student ambassadors, Bella Botero and Ella Tingler. The SON Ambassador Program allows current students the opportunity to connect with prospective nursing students to share their insights and experiences.
Botero and Tingler are juniors in the Bachelor of Science in Nursing (BSN) program who felt the need to support their peers through the ambassador program. They are excitedly anticipating connecting with prospective students during recruitment events and campus visits.
Hailing from Lansdale, Pennsylvania, Botero is an active community member who can't wait to help others get their footing. "I am most looking forward to meeting and interacting with the incoming freshman!" she said. "I have a passion for helping others and love being able to answer questions or ease nerves for people."
Outside of nursing, she loves to make beaded jewelry, hang out with friends and family and listen to music. Botero is also an active member of WVU CHAARG, TRiO/Student Support Services, WVU Student Nurses Association, WVU Paws, and Helvetia, in addition to working with the WVU Wrestling Team.
Tingler, from Fairmont, West Virginia, is looking forward to creating new connections with first-year nursing students. "It is so important to have support while in nursing in order to be successful," she said. "By having this program available, students know they have someone to reach out to so they can become comfortable with making such a big decision regarding their future career."
Tingler likes to hang out with friends and go on walks outside in her free time. After graduation, she wants to become a pediatric nurse in a clinic setting.
Botero and Tingler join two current ambassadors, Aiden Slusser and Kylie Dick, who were two of WVU Nursing's inaugural ambassadors.
-WVU-
gu/09/19/2023
CONTACT: Wendy Holdren
Director of Communications and Marketing
WVU School of Nursing
304-581-1772; wendy.holdren@hsc.wvu.edu