Back to

News
WVU School of Nursing faculty offer interactive heartbeat display at WVU Day at the Legislature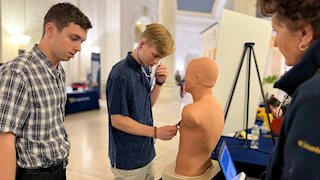 CHARLESTON, W.Va. — During the recent 2023 WVU Day at the Legislature, youngsters and adults alike stopped by the WVU School of Nursing table to locate a heartbeat on SAM, a Student Auscultation Manikin from the WV STEPS Center.
"I always enjoy interacting with the middle school students and planting the seed for them to consider a nursing career," said Kathy Atassi, an assistant professor with the WVU School of Nursing Charleston Campus. Atassi was joined by Theresa Cowan, Charleston Campus Chair.
The School of Nursing offered giveaways such as ink pens, nursing buttons and stickers, as well as a single-use stethoscope for anyone who participated in the interactive SAM display.
"This year, I also truly enjoyed talking to the adults who have a loved one who is a nurse," Atassi shared. "The adults were curious about SAM the simulator and watching their expressions using the disposable stethoscopes was priceless!"
She continued, "Nurses remain the most trusted profession going on 21 years, and adults aren't afraid to ask us questions. It's a great opportunity to engage with the community and provide folks with knowledge they seek."
Atassi and Cowan offered dozens of demonstrations to visitors of all ages. They also posed for photos with the Mountaineer mascot and President E. Gordon Gee.
Hosted by WVU and WVU Extension, WVU Day at the Legislature was held Jan. 31 at the West Virginia State Capitol to celebrate the strong connections people have to West Virginia's largest land-grant University and what it represents.
-WVU-
CONTACT: Wendy Holdren
Director of Communications and Marketing
WVU School of Nursing
304-581-1772; wendy.holdren@hsc.wvu.edu