Back to

News
WVU School of Pharmacy Charleston Campus professor receives national vaccination award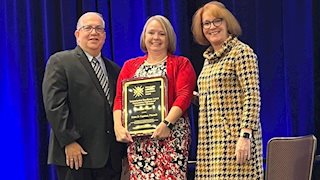 West Virginia University School of Pharmacy Charleston Campus Professor Dr. Krista Capehart is one of five healthcare professionals in the country to earn a 2022 Immunization Excellence Award from the National Adult and Influenza Immunization Summit (NAIIS). Dr. Capehart, who also serves as Wigner Institute for Advanced Pharmacy Practice, Education, and Research director, accepted the award during a ceremony on Nov. 3 in Atlanta, Georgia.
The NAIIS is an action-oriented entity with more than 700 members representing more than 130 public and private organizations. The awards recognize extraordinary contributions towards improved vaccination rates within their communities during the past year.
This year, there were three award categories: overall influenza season activities, "Immunization Neighborhood" champion award, and "Health Equity & Access" awards. Nominees were evaluated based on the areas of impact, collaboration, originality, and overcoming challenges and opportunities.
Dr. Capehart received the "Immunization Neighborhood" Champion Award. A news release from the NAIIS shared the following statement about her.
As the pharmacy lead of West Virginia's COVID-19 vaccine distribution plan, Capehart collaborated with countless organizations and individuals to ensure care for residents in her home state.
Capehart's work designing and implementing West Virginia's COVID-19 vaccine distribution plan allowed for the efficient distribution of COVID-19 vaccines to long-term care facilities. She worked with the State Vaccine Planning Committee, West Virginia Health Care Association and National Guard to coordinate the vaccinations. This ensured the protection of vaccines for the most vulnerable population and utilized every willing, ready and able pharmacy provider in the state to quickly vaccinate residents and staff at long-term care facilities.
While other states were struggling to vaccinate this population, West Virginia, despite being a primarily rural state, had already reached these individuals and was able to begin vaccinating other populations. She then worked with the West Virginia Department of Education, county school boards and school nurses to provide the COVID-19 vaccine to K-12 school personnel 50 years or older.
Capehart helped to promote vaccine confidence by administering the COVID-19 vaccine to West Virginia Governor Jim Justice on a televised broadcast.
The National Adult and Influenza Immunization Summit started in 2000 with interest in addressing and resolving influenza and adult vaccine issues and improving vaccination rates for vaccines recommended by the Advisory Committee on Immunization Practices. Visit the Summit's website at izsummitpartners.org.