Back to

News
WVU students volunteer to assist with COVID-19 testing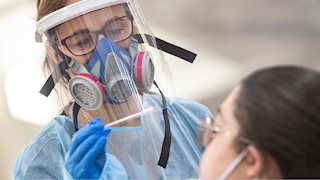 With the return to campus for the West Virginia University spring semester, an array of students are volunteering to help with COVID-19 testing for faculty, staff, and incoming students.
The student volunteers come from many different fields across the WVU campus, from Health Sciences to communications. The volunteers were trained and given PPE gear for their assistance in collecting samples and running rapid antigen tests.
"I learned to appreciate what an impressive number of resources and logistics is required to carry out testing smoothly on a massive scale," said Anirudhya Lahiri, a Ph.D. candidate in the School of Medicine Department of Microbiology, Immunology, and Cell Biology. "While I was working, I felt that we are a part of WVU and as Mountaineers, we were all fighting this pandemic together."
The students who volunteered to participate with COVID-19 testing were recruited through their respective departments. Students from non-Health Sciences fields provided instruction and observation of self-swabbing, while Health Sciences students conducted swabbing and ran rapid antigen tests.
Students volunteering from Health Sciences were given clinical and community service hours, which will help further their education.
This is the second semester in which students volunteered to help with COVID-19 testing. The volunteers help both with the return of students and with continued testing throughout the semester. Last semester, around 70,000 people were tested with the help of the student volunteers.
"The student volunteers were a great help in the testing," said William Ramsey, M.D., Associate Vice President for Coordination and Logistics, who headed the student volunteering effort. "With their help, the COVID-19 testing has gone very well."