Dental School Alumni Association President's Message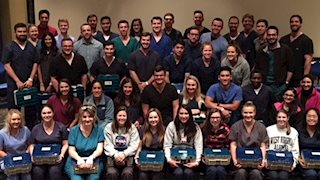 Dr. Ron Richardson recaps fall events
Greetings to all:
Fall is finally in the air and so is Mountaineer Football. It is always exciting to see the Mountaineers play well. I wanted to send out a President's Message to give you an update on the association.
Fall Continuing Education Course
We had a wonderful fall Alumni course with Dr. Bill Robbins on September 28, 2018. He discussed treatment planning options in various situations. These courses are so beneficial in challenging us to go beyond our present way of evaluating a person's functional and cosmetic treatment options. When we are exposed to teachers like Bill Robbins, it allows us to expand our treatment planning options and offered services thus growing our dental practices. We will strive to bring you the best speakers so that you will expand your knowledge. I have always believed that the more CE that we receive the more enjoyment we have in our dental career.
Our next course for our Alumni and students is our reunion weekend on April 26, 2019 showcasing Dr. Harold Crossley. We have some special events planned for this weekend so stay tuned.
WVU School of Dentistry Alumni Day
Student Alumni Day was held on September 28th. It is held to offer an opportunity for the dental and dental hygiene students to interact one-on-one with members of the alumni board of governors. Each class receives a class gift from the alumni association, and board members distribute them at this time. The gifts are items that each student can use during the current year in the curriculum. Each year the gift changes according to the class need. The gifts distributed include:
This is just one of many things that the alumni association does to support the students. These types of events and support would not be possible without you being a dues paying member of the association.
This is YOUR alumni association at work supporting the WVU School of Dentistry and students because of your dedication in continued membership. If you currently are not a member, please consider joining.
There are 190 DDS students and 82 Dental Hygiene students that you are supporting in many ways when you complete your annual membership dues. As members of the Board of Governors of the alumni association, we are committed in educating the students as to the importance of joining upon graduation in order for the association to remain as active in the future as it is now.
Alumni Weekend
Class reunion and alumni weekend will he held on April 26, 2019 at the Morgantown Waterfront Marriott. We will be recognizing the following classes: 1964, 69,74,79,84,89,94,99,04,08,12
Contact your classmates and start planning now. Information will be coming soon.

Ron Richardson '81
RRich44@aol.com
321-591-5051