Grand opening ceremony for WVU Cancer Institute at Reynolds Memorial Hospital to be held Friday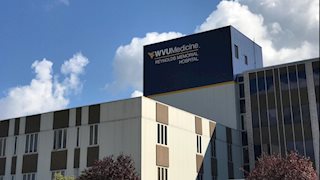 The WVU Cancer Institute at Reynolds Memorial Hospital will hold a grand opening ceremony and reception at 10 a.m. on Friday, Nov. 10, at the newly constructed center on the hospital campus in Glen Dale. The clinic will hold its first patient visits on Nov. 27.
The WVU Cancer Institute's newest regional cancer center will provide mammography, infusion therapy, and access to radiation oncology to people in the Northern Panhandle. While some patients may need to travel to Morgantown for surgery or other advanced procedures, most care, such as regular treatments and follow-up visits, can be received close to home at the new center. Diagnostic and consultative evaluation, intravenous and chemotherapy infusion, and laboratory services will be provided by the WVU Cancer Institute at Reynolds Memorial Hospital.
"We believe strongly at the WVU Cancer Institute that cancer care is at its best when it's done in partnership between specialists at an academic center and providers located in a patient's own community. The cancer center at Reynolds lets us do just that," Richard Goldberg, M.D., director of the WVU Cancer Institute, said. "Patients at this center get WVU-quality care close to home with local access to selected clinical trials. When appropriate, they will get an expedited referral to the specialized services that are provided in Morgantown."
The 3,606 square-foot clinic has two exam rooms, seven infusion rooms, and an American Cancer Society Resource Center and is staffed by a full-time WVU Cancer Institute physician and additional staff.
"Over my career, patients and families have consistently asked for cancer care to be brought to our community. We are so fortunate to be a part of WVU Medicine's mission to offer highly specialized cancer treatment to patients in the comfort and convenience of their hometown hospital. WVU Medicine Reynolds Memorial Hospital is committed to bringing world-class specialists from the academic center directly to our patients, so they can stay close to home for care. We feel that this is vitally important to meet the needs of the patients and their families," David Hess, M.D., president and CEO of Reynolds Memorial Hospital, said.
The grand opening will include remarks from President and CEO of the West Virginia University Health System Albert L. Wright, Jr.; Dr. Hess; Vice President and Executive Dean for WVU Health Sciences Clay B. Marsh, M.D.; Dr. Goldberg; Chairman of the Board of Reynolds Memorial Hospital Bernard Twigg; and special guest Bishop Klusmeyer.
Community tours of the new cancer center will be offered from 8 a.m. to 2 p.m. on Monday, Nov. 13 and Thursday, Nov. 16.
The Glen Dale center joins a network of seven other cancer centers in Morgantown, Martinsburg, Parkersburg, Fairmont, and Elkins in West Virginia, and Oakland in Maryland.
The WVU Cancer Institute at Reynolds Memorial Hospital, located at 901 Jefferson Avenue, will be open 8 a.m. - 4:30 p.m. beginning Nov. 27. To make an appointment, call 304-843-3302.
For more information: Leanne Goddard, Reynolds Memorial Marketing, 304-221-4509