MEET OUR GRADS: Chris McMahon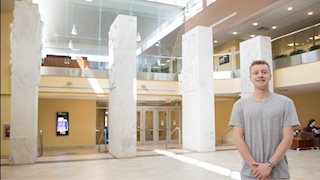 What will you remember from your time at WVU?
I will always remember the relationships I have created with friends, teammates, and professors while at WVU.
What would you tell your freshman self?
I would tell my freshman self to switch to Public Health sooner! It is so much easier and more enjoyable to study something that you enjoy and take real interest in.
What will your degree allow you to do?
My degree will allow me to pursue a career in Public Health and set myself up doing something that will benefit other people.
What does Public Health mean to you?
Public Health to me is an opportunity to help the community around me be safer, healthier, and better.
Why did you choose WVU?
I chose WVU after going through the recruitment process for swimming. It seemed like the best fit for me both academically and athletically. WVU has more energy and spirit than any other school I visited which really stuck out to me.
What's the best thing about the Public Health program at WVU?
The best thing about the PH program has to be the professors and the supporting staff. If I ever had a question about anything, I knew I could just walk in to literally any professors office and ask for assistance that would be given in a caring matter.
What's next for you?
Once I complete my degree, I plan on returning home to Denver, Colorado and working on my MPH in Epidemiology at the Colorado School of Public Health.
Were you part of any groups or organizations at WVU?
I was on scholarship with the Swim and Dive team while working on my degree at WVU.