Schools of Medicine and Pharmacy alumni are WVU 2017 Homecoming Award recipients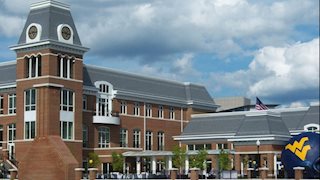 Three School of Medicine alumni and a School of Pharmacy graduate are being recognized by the WVU Alumni Association as 2017 Homecoming Award recipients.
The annual homecoming parade is scheduled for Friday (Oct. 13) at 6:30 p.m. on High Street in Morgantown. Award recipients will be honored during halftime of the WVU - Texas Tech football game that begins at noon on Sat., Oct. 14.
Outstanding Alumnus/Alumna award
Dr. Antonio (Tony) S. Licata is this year's recipient of the Outstanding Alumnus award.
As a graduate of the WVU School of Medicine in 1964, Licata has been a leader in connecting and engaging his medical school class since his graduation, heading up reunions among classmates and instilling WVU values within his family. With outstanding dedication to his alma mater, he has remained an avid supporter of the University through his service as the former President of the Medical Alumni Association, member of its Executive Council and chair of the Communications committee.
Licata is a past member of the Council of the West Virginia State Medical Association and a retired Weirton area physician. He currently serves as a member of the Emeriti Academy of Arts and Sciences.
He and his wife Ruth have three sons. His youngest son received his undergraduate degree and masters in social work at WVU. Two sons and a grandson followed his example as WVU-trained physicians.
Margaret Buchanan Cole Young Alumnus award
This year's recipient of the Margaret Buchanan Cole Young Alumnus award is Dr. Lisa Costello.
Costello holds three WVU degrees, a BS in Biology from Eberly College of Arts and Sciences in 2007, and an MPH and MD from the School of Medicine in 2011. Currently she serves as Assistant Professor of Internal Medicine and Pediatrics at WVU, Director of the Mountain State Cystic Fibrosis Adult Program and as a Pediatric Hospitalist at WVU Medicine's Children's Hospital.
Costello dedicates her work to utilizing technology and media to amplify advocacy and education among healthcare professionals. In her time at WVU, she helped develop a mentorship program for the National American Academy of Pediatrics, and received the 2015 Advocate for Children Award from the West Virginia Chapter of the American Academy of Pediatrics where she currently serves as the legislative committee chair.
In 2011, the WVU School of Medicine Alumni Association selected Costello as recipient of the President's Young Alumnus Award.
James McCartney Community Service award
Dr. Joseph Reed, of Buckhannon, is this year's recipient of the James McCartney Community Service award.
As a 1962 graduate of WVU's School of Medicine, Reed has dedicated his life to the care of West Virginians. As a well-known physician in Upshur County, he is active in educating youth and adults about healthy lifestyles, and providing care for newborns in the local hospital.
He is active in his community, serving as the medical director for the Upshur County Health Department, a past member of the WVU Extension Service county and state committees and past member of the board of directors for the Buckhannon-Upshur Chamber of Commerce. In 2016, he helped start the Green Bean Weekend.
Reed is a lifetime member of both the WVU Alumni Association and the WVU School of Medicine Alumni Association. He served the Medicine Alumni Association as president and chair of the executive council.
David Jacobs Lifetime Service award
This year's recipient of the David Jacobs Lifetime Service Award is W. Clarke Ridgway.
Ridgway, a '71 graduate of the WVU School of Pharmacy, has served many roles in his time at WVU. As externship coordinator, assistant dean for student services and most recently, coordinator of the Pharmacy School's Alumni Association he works tirelessly to remain a constant source of knowledge for students and alumni alike. As a Wheeling native, he established the Ray L. Ridgway Pharmacy scholarship in memory of this father and upon retirement created the Clarke and Elayne Ridgway Student Services fund to provide travel for students to develop leadership and entrepreneurial skills at regional and national conferences.
Ridgway currently serves as the curator of the Cook Hayman Museum located within the WVU School of Pharmacy.