Back to

News
WVU pharmacy student finds purpose through courageous battle with childhood cancer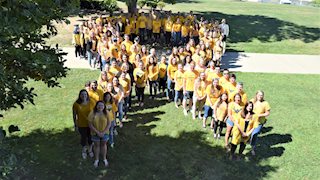 September is Childhood Cancer Awareness Month. Statistics show more than 10,000 children in the United States under the age of 15 will be diagnosed with some form of cancer in 2019.
To create awareness for childhood cancer, The WVU School of Pharmacy's National Community Pharmacy Association (NCPA) and the Academy of Student Pharmacists (APhA-ASP) collaborated for a group photo and fundraising activities — with proceeds going to the Childhood Cancer Association (ACCO). ACCO provides support and resources to families who have kids with cancer at no cost to them.
The event was part of Go Gold for Kids with Cancer. Go Gold for Cancer is an international campaign through the ACCO to raise awareness for pediatric cancer. The campaign's mission is dedicated to making childhood cancer a priority through policy, supporting research, awareness and providing educational resources to children with cancer, survivors and their families.
Among the WVU student pharmacists who gathered for the photo was childhood cancer survivor Autumn Smith. Smith, a third-year pharmacy student from Brandywine, West Virginia, was diagnosed with acute lymphoblastic leukemia six days after her fifteenth birthday.
Smith spent most of her high school years in outpatient treatments. Every Friday, her family would drive two hours for chemotherapy. In addition, she took daily oral chemotherapy and experienced many side effects.
"It's very traumatic to lose your hair at 15 years old," Smith said. "I lost mine twice, but I learned that it grows back."
Smith says she never saw herself as different than any other teen during her battle with cancer, but it did cause her to sit out of some of her high school activities.
"I liked cheerleading, and I was unable to do it — partially due to chemo and partially due to side effects," said Smith. "I missed the entire second semester of my freshman year. It's just like they say, you have your good days and your bad days. I deal with it by embracing what happened to me."
While going through treatment, Smith made it a point to learn about every drug she took, how much she received and the side effect of each one.
"My doctor was good at telling me why I was getting the drugs," she said. "I thought that was super cool and that's what inspired me to go into pharmacy."
Smith's pharmaceutical interests lie in clinical pharmacy. Due to her experience and being a childhood cancer survivor, she is interested in pediatric oncology. She says that events like Go Gold for Kids with Cancer are important because they are the first step in finding a cure.
"To develop drugs and the clinical research necessary to have good cure rates for cancer starts with awareness. If you don't have awareness, you don't have funds."