Back to

News
Dental students begin Mountaineer chapter of national ethics and professionalism association
SPEA is the Student Professionalism and Ethics Association in Dentistry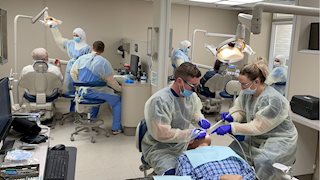 As classes resumed across campus in August, West Virginia University School of Dentistry students returned with a plan to launch a new student organization.
There is now a Mountaineer chapter of the Student Professionalism and Ethics Association in Dentistry (SPEA). SPEA is "a national, student-driven association that was established to promote and support students' lifelong commitment to ethical behavior in order to benefit the patients they serve and to further the dental profession."
The national mission and objective of SPEA is to support students through ethics education resources, foster a positive environment for ethics communications and to promote awareness of ethics standards in dentistry.
Ali Alsayegh, a third-year doctor of dental surgery student, summarized the goals of the WVU SPEA chapter. He wrote:
The purpose of this organization is to increase the overall level of ethics and professionalism at West Virginia University School of Dentistry. By uniting the community of students, faculty and staff of West Virginia University School of Dentistry, SPEA will promote lifelong thought and action in the area of dental ethics. Through various programs, activities and associations, SPEA aims to foster an environment where ethical and professional behavior issues can be addressed in an open, unbiased forum. SPEA aims to further the ethics education of every student at West Virginia University School of Dentistry and help achieve the development of ethical and professional behavior in the educational setting that will accompany the students throughout their professional careers. SPEA also aims to form a student-centered committee to mediate and resolve concerns relative to professional behavior. Donations to WVU SPEA fundraisers will be used to support future WVU SPEA meetings and continue invigorate dental students about professionalism, leadership, and ethics in dentistry.