Back to

News
Gibson to retire after leading outstanding research, education efforts at WVU Health Sciences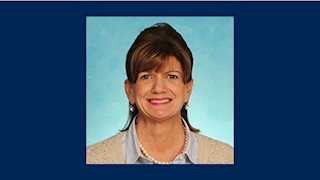 WVU Health Sciences Senior Associate Vice President for Research and Graduate Education Laura Gibson, Ph.D., who has dedicated her career to research focused on improving health and advancing education, has announced her retirement, effective July 1, 2023.
"Laura Gibson has had an immense impact on our Health Sciences community, the University, the state and beyond," said Dr. Clay Marsh, chancellor and executive dean for WVU Health Sciences. "As lifelong West Virginian, her dedication to improving education and creating real world solutions to our most vexing health problems in West Virginia and beyond through research has a lasting effect that can be seen in the health professionals who serve our communities and the well-being of our residents.
"She is an outstanding example of a leader, researcher, mentor and educator whose collaborative spirit has enabled our research and graduate education programs to flourish."
During her time as senior associate vice president, Health Sciences has been a significant part of the University attaining a ranking of R1, or very high research activity, by Carnegie Classification of Institutions of Higher Education. Most recently, her leadership throughout the COVID-19 pandemic also provided support for increased critical research from Health Sciences Campus labs to West Virginia communities.
Gibson, a member of the WVU Cancer Institute Research Programs, has been one of WVU's most prolific researchers and a leader in mentoring students and early-career researchers. She has served as principal investigator on awards totaling more than $30 million and as co-principal investigator, core director or faculty mentor on grant-funded projects totaling more than $95 million, including currently active initiatives. Her funding has included multiple National Institutes of Health R01s, foundation grants and the Signal Transduction in Cancer Centers of Biomedical Research Excellence (CoBRE). She now serves as the co-director of the technology core of the Institutional Development Award Networks for Clinical and Translational Research (IDeA-CTR) grant, the director of the mentoring core for the Tumor Microenvironment CoBRE and as a member of the internal advisory committee for the Visual Sciences CoBRE.
She has authored more than 70 publications and mentored more than 65 undergraduate research fellows, graduate students, postdoctoral fellows and clinician scientists.
Her research focuses on understanding the factors that regulate leukemic cell response to therapy and understanding the effects of high dose chemotherapy on capacity of the bone marrow to support immune system recovery following stem or progenitor cell transplantation. She has shared her teams' findings across the country and around world, including a National Cancer Institute Workshop in Washington, D.C., and several presentations for the American Association for Cancer Research and World Congress on Advances in Oncology.
She currently serves on the National Institutes of Health National Advisory General Medical Sciences Council and is a member of several professional societies including the Association for Women in Science, American Association for Cancer Research, American Society of Hematology, International Society of Experimental Hematology and Children's Oncology Group. She served as a standing member on various National Institutes of Health study sections for over 15 years prior to her role on its Council. Her diverse service included the NIH Human Stem Cell Training Grant panel, NIH Tumor Microenvironment study section, NIH F31 panel, NIH Basic Mechanisms of Cancer and Therapeutics study section and the NIH CoBRE Program IDeA review panel. In addition, she has reviewed for several journals and ad hoc scientific groups.
In 2018, Gibson was selected to participate in the Hedwig van Ameringen Executive Leadership in Academic Medicine (ELAM) program for women at Drexel University College of Medicine. During the 9-month fellowship, she focused on developing efforts to enhance the psychological safety and resilience of scientists at all career stages as it relates to engagement, innovation and retention. Prior to becoming an ELAM fellow, Gibson was awarded a Robert C. Byrd Professorship, an Association of American Medical Colleges mid-career women in science and health excellence award and the Dean's Award for excellence in research.
Gibson officially joined the Mountaineer family as an undergraduate student. Since then, her connection and service to WVU continued to grow, having earned a Ph.D. in Genetics and Developmental Biology from the Davis College of Agriculture, Natural Resources and Design before beginning her career as a postdoctoral fellow in the WVU Cancer Institute Mary Babb Randolph Cancer Center. Since then she has served in various roles throughout her thirty-year career, including deputy director of the Cancer Center and vice chair of research for the School of Medicine Department of Pediatrics. Additionally, Gibson currently holds the WVU Cancer Institute Alexander B. Osborn Distinguished Professor of Hematopoietic Malignancies and serves as associate dean for research for the School of Medicine, professor for the Department of Microbiology, Immunology and Cell Biology and adjunct professor for the Department of Chemical and Biomedical Engineering.
"My career at WVU has been one that I have always cherished – it has changed across 30 years in a way that has been consistently rewarding and provided me so many opportunities to connect with amazing people who both care about making a difference and care about each other," Gibson said. "I'm so grateful to the University and Health Sciences for years of support and the space to do work that feels driven by purpose."
A national search for Gibson's replacement will commence immediately with the goal of a permanent replacement being on site July 1.