Back to

News
Orthodontists talk "everything but the kitchen sink"
Continuing education course hosted at WVU Sept. 9.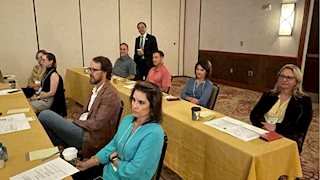 The West Virginia University School of Dentistry postgraduate orthodontics program is designed to develop skilled practitioners who can easily transition from general dentistry into specialty practice.
In addition to guidance and mentoring from expert faculty members, residents are introduced to opportunities outside the classroom and clinic to enhance skills, increase knowledge, network and learn about new techniques and technology.
Dr. Jenna Schneider is a first-year resident in the 34-month program at WVU. She and her co-residents attended the Department of Orthodontics continuing education presentation, "Everything but the kitchen sink…but on second thought," on September 9. The 2022 graduate of New York University College of Dentistry said she welcomes extended learning opportunities.
"It is one of the most important aspects of orthodontics because we learn from each other in many cases. There are so many ways to achieve the same goals, but it is not always intuitive to consider certain methods of treatment or mechanisms of motion," Schneider said. "It is also important to continue to learn all aspects of our profession and specialty; it is ever-changing and growing and we should be doing the same as orthodontists."
The takeaway from continuing education courses is often unique to each dentist and orthodontist in attendance.
Orthodontics resident Dr. Nicholas Palmer honed in on decision-making in the treatment process.
"The most valuable thing to me was learning when it might not be a good idea to extract teeth due to the patient's profile. Dr. Bowman stated from his research that if the lower lip to E-plane is 2-3.5 mm behind, the profile will most likely be negatively affected by the extractions," Palmer said.
Schneider appreciated the discussion on selecting the best resources for patients.
"I learned about various appliances, how to use them in creative ways, and different properties of tooth movement caused by their mechanisms. I also learned about the rationale for the location and placement of mini implant screws intended for increasing anchorage during orthodontic treatment," she said.
Dr. Bowman, a Diplomate of the American Board of Orthodontics and member of the Edward H. Angle Society of Orthodontics, used his course to cover numerous topics including the butterfly system, Monkey Hooks, crossbite corrections and miniscrews. More than 60 attendees registered for the event.
Q & A
What surprised you from this continuing education course?

Schneider: I was surprised by different methods and manipulations of clear aligners to increase the predictability of tooth movement.
Palmer: Learning how many famous people have had premolar extractions with their orthodontic treatment.
Do you have a message for Dr. Bowman?
Schneider: He is incredibly knowledgeable and a great presenter. It would be an honor to have him back, we are very grateful to have had him!
Palmer: I would like to thank Dr. Bowman for taking time out of his schedule to come and lecture for our CE event. Furthermore, I would like to thank him for coming to our clinic the day before and sitting in on a treatment class, and talking about his treatment philosophy.