Back to

News
Solving the mystery: Keyser Campus nursing students participate in "murder mystery" activity to learn about heart conditions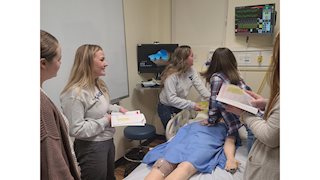 Pictured from left to right: Senior BSN students Mackenzie Cook, Jaden Corbin, Mariah Durr, Molly Landis, and Aslyn Didawick.
In a creative simulation activity at the WVU School of Nursing Keyser Campus, Dr. Kasey Beckman-Sirk led senior-level nursing students through a "murder mystery" to learn about the five arrhythmias.
Students in the elective course, NSG 435: Cardiology for Nursing, collected clues to determine who killed their patient Joules Defibrillation. There were five possible murderers: Ace Systole, Vennie Fibrillation, Bart Block, Attie Fibrillation and Vee Tach.
Students worked collaboratively, applied their knowledge of cardiac rhythms and assessment, and used their clinical judgment skills to figure out that "Vee Tach" was the murderer. By performing the correct interventions, including BLS and defibrillation, their patient Joules survived!
"I thoroughly enjoyed watching the students piece together the clues and work together to solve the mystery," Dr. Beckman-Sirk said. "This activity enabled them to practice a multitude of skills including assessment, professional communication, and collaboration, as well as develop confidence in their capabilities to interpret the patient's symptoms and ultimately save the patient's life."
In a follow up survey, one student commented, "I enjoyed working as a team, thinking critically, and getting hands on experience."