Back to

News
Teacher/Clinician of the Year named at WVU School of Medicine Eastern Campus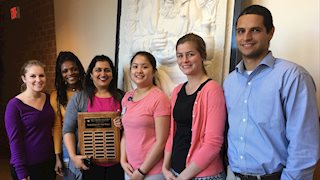 MARTINSBURG, W.VA. -- West Virginia University School of Medicine Eastern Division would like to congratulate Jabin Janoo, M.D., who was selected as the 2017 Eastern Division Clinician of the Year, by School of Medicine Class of 2018 Eastern Campus students. Dr. Janoo, an obstetrician and gynecologist, was selected for her exceptional dedication to teaching.
Class president, Christina Provenza, presented the award at the Harpers Ferry Family Medicine residency graduation dinner earlier this year.
Medical students learn from local faculty physicians while completing rotations in their clinics and other clinical settings, like hospitals and nursing homes. Third-year medical students vote on the award annually, and it reflects the students' appreciation of a single physician's outstanding dedication, patience and teaching skills.
In nominating Dr. Janoo for the award, one student commented, "Dr. Janoo genuinely cares for her students. She takes every opportunity to teach us and she provides feedback that is both positive and constructive." Another student noted, "Dr. Janoo's passion for women's health is inspiring."
Dr. Janoo is an Associate Professor for WVU School of Medicine and she practices at WVU Medicine OB / GYN in Martinsburg, WV. She is also the OB/GYN co-clerkship director for the Eastern campus.
-WVU-
(PHOTO): L-R / Third year medical students, Audreanna James, Ayita Verna, Dr. Jabin Janoo with plaque, Tina Nguyen, Jessica Rude and Kourosh Shargani.
Contact:
Chriss Kief
WVU HSC Eastern Division and University Healthcare Physicians (UHP)
kiefc@wvumedicine.org | 304-264-9202, ext. 56351