Back to

News
WVU Medicine Berkeley Medical Center offering new virtual reality platform for neurosurgery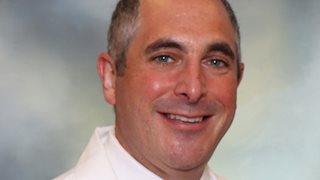 MARTINSBURG, W.Va. – WVU Medicine Berkeley Medical Center recently became the first hospital in West Virginia to acquire Surgical Theater's Precision Virtual Reality® platform for neurological surgery.
This ground-breaking mixed reality technology provides Berkeley Medical Center neurosurgeons with a never-before-seen view of the anatomy and pathology of their patients' complex conditions. Surgeons, along with each patient and their family, can "walk through" a reconstructed, 360°VR model based on the patient's CT and MRI scans.
These models are used to create customized digital treatment plans for patients, and have also proven to be useful for intraoperative visualization and navigation during complex surgical procedures.
"Surgical Theater will allow our patients to better understand the location of their tumor and why they are having the associated symptoms," Jonathan H. Sherman, M.D. associate professor of neurosurgery and director of surgical neuro-oncology, said. "It allows us to show patients how we are going to safely remove the tumor, plan the surgical resection using a combination of virtual and augmented reality, and then use the system in the operating room during the actual tumor resection."
Berkeley Medical Center has equipped its neurosurgeons with a dedicated virtual reality clinic room where patients can interact directly with their 360°VR models. By simply slipping on a VR headset, Precision Virtual Reality® empowers both surgeons and patients with the technological ability to walk into a 360-degree virtual reconstruction of the patient's anatomy. When utilized during the surgical consult, this personalized, immersive VR view leads to enhanced patient experience, education, and satisfaction.
"Surgical Theater's Precision VR® platform goes beyond neuro-oncology and allows all of our patients at Berkeley Medical Center to see their anatomy and pathology as a 360° VR model. In addition, the system will be invaluable in the training of our medical students and residents," Sherman said.
Surgical Theater resources at Berkeley Medical Center also includes SyncAR, an augmented reality visualization hub that gives surgeons the ability to see hidden anatomical and vascular structures, pathologies, and DTI white matter tracks synchronized and aligned to the surgeon's operative view. With SyncAR, the patient's 360°VR model is overlaid onto the anatomy of the patient and viewed through the oculars of the microscope, allowing surgeons to never take their eyes off the patient.
"We are excited to be partnering with the dedicated surgeons at Berkeley Medical Center," Alon Zuckerman, COO and president of Surgical Theater, said. "Precision VR® is an indispensable AR/VR solution for increasing meaningful engagement opportunities with patients in the clinic, delivering dynamic planning capabilities and offering next-generation visualization in the operating room."
For more information, visit https://www.surgicaltheater.net/ or WVU Medicine Brain & Spine.
--WVU Medicine--
For more information:
Teresa McCabe, Vice President of Marketing & Development, 304-264-1223,
tmccabe@wvumedicine.org