Back to

News
WVU provides hands-on simulation training for West Virginia Junior College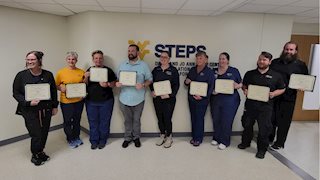 Across the West Virginia University Health Sciences campus students training to become healthcare professionals participate in immersive simulation experiences through the David and Jo Ann Shaw Center for Simulation Training and Education for Patient Safety (STEPS) as part of their education. To continue preparing healthcare professionals to best treat patients across the region, STEPS recently expanded training opportunities to faculty and staff at West Virginia Junior College.
In July, nine faculty and staff from the college participated in the Simulation Certificate Program, a three-day curriculum for teaching best practices in simulation. Started in 2017, the program provides a certificate and continuing education credits to individuals who focus on teaching skills in simulation.
"STEPS has been committed to promoting the utilization of simulation modalities for the experiential learning of our students and providers," Daniel Summers, director of STEPS, said. "To assist faculty and staff that are using these modalities, and initially in conjunction with the WVU Teaching Scholars Summer Institute, STEPS developed a three-tier certification program. We not only offer this to our faculty, but market it to those outside of WVU to assist in their understanding of how the simulation pedagogy is implemented. It is our belief that better trained healthcare learners and providers equal better care for the citizens of West Virginia."
The program includes topics in introduction to simulation, applied simulation techniques and advanced simulation. Participants create and implement multiple simulation scenarios with guidance and feedback from simulation experts.
Throughout the program, participants learn basic components and modalities of simulation and the second and third days are dedicated to simulation creation workshops and practicing various scenarios. Participants also learn about manikin technology, hybrid simulation experiences and the pre-brief and debrief processes.
"The program is designed to provide a solid foundation of teaching topics as they relate to simulation," Lee Ann Miller, assistant director of education for STEPS, said. "Different options or modalities for content presentation and practice are introduced with instruction on how to organize a successful simulation encounter. Subsequently, learners build upon this knowledge to create simulation encounters in small groups. Participants have multiple opportunities to run these encounters and receive feedback from experts."
For those who participated, the program was a chance to learn more about simulation and continue developing skills necessary for teaching these experiences to students.
"I had a great experience at STEPS," said Adam Fannin, a professional nursing faculty member at West Virginia Junior College and participant of the program. "While I enjoyed working with the equipment and standardized patient, my favorite experience was learning new ways to debrief and facilitate meaningful conversations."
As simulation experiences prepare students for a variety of scenarios and allow them to practice care before encountering patients in the healthcare setting, STEPS emphasizes the importance of providing training to the educators that manage these experiences.
"The STEPS certificate program teaches faculty how to implement simulation education from writing measurable learning objectives, to running a scenario, to constructive debriefing," Summers said. "This enables participants to create realistic clinical experiences learners can expect to encounter. All of this is accomplished in an environment that is safe to make mistakes and learn from them. Faculty then implement this experiential learning which is safe for both our learners and patients."