Back to

News
WVU School of Nursing faculty share their passion for healthcare during Purpose Week panel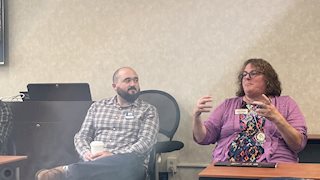 Dr. Brad Phillips and Dr. Pamela Rodriguez during the Sept. 21 panel "Working in Health and Wellness Careers" at the Mountainlair.
MORGANTOWN, W.Va. — Two West Virginia University School of Nursing faculty members shared their motivation and inspiration for becoming nurses during a Sept. 21 panel, "Working in Health and Wellness Careers," as part of the inaugural Purpose Week.
Held at the Mountainlair, the panel welcomed Dr. Brad Phillips and Dr. Pamela Rodriguez to share their purpose around nursing.
"I often ask my students, 'Why do you want to be a nurse?' We all have our own reasons," said Phillips, an assistant professor.
Phillips, a Detroit native, said every Christmas Eve when he was growing up, his family would dress as elves and deliver gifts to the kids in the burn unit at an inner-city children's hospital.
"I think that was a core memory that led to me choosing to being a pediatric nurse," Phillips said. "Fast forward, after I graduated nursing school, I got a job in the pediatric ICU at the same hospital, so it all kind of came full circle."
For Rodriguez, her path to becoming a nurse wasn't as direct. She said when she was in high school, women weren't encouraged to go into STEM fields. While her father, a chemistry professor, encouraged her to be whatever she wanted to be, he didn't warn her that not everyone would welcome her into the field.
She obtained her engineering degree from WVU, then moved to southern West Virginia for a job as an engineer at a coal mine. As a woman, she was not welcomed by her co-workers at first. She made the most of it, but she was later laid off due to the downturn in the industry. She relocated for another position, and then decided to stay at home to raise her four children.
"After raising my children, I needed a purpose," she shared. She had enjoyed spending time caring for her brother who was handicapped, so after his passing, she decided to become a nurse.
"I'm a nurse practitioner and I teach at WVU, both undergraduate and graduate level," Rodriguez said. "I love my job and I love bringing new nurses into the field. With nursing, there's so much you can do — nurse anesthetist, nurse practitioner, faith-based nursing in rural areas, bringing really good care to people who need it. [The possibilities] are endless."
Rodriguez said bringing new nurses into the field is especially important right now, as 1,700 nurses did not renew their licenses last year in West Virginia.
"That is a huge hit to healthcare," she said.
For Rodriguez, she is currently working toward her Psychiatric Mental Health certificate and she hopes to one day work in rural health to bring care to folks who need it.
For Phillips, he recently obtained his PhD. His area of research focuses heavily on parents of children who have special healthcare needs and helping them find purpose and meaning in the traumas they experience.
The panel was moderated by Dr. Lisa Costello. Other panelists included Anthony Danko, Nathan Harlan, Angela Lawrence, Dana Huebert-Lima and Erin Jordan.
To learn more about the WVU School of Nursing, visit nursing.wvu.edu.
-WVU-
CONTACT: Wendy Holdren
Director of Communications and Marketing
WVU School of Nursing
304-581-1772; wendy.holdren@hsc.wvu.edu