Back to

News
WVU Health Sciences acknowledges recent efforts during National Addiction Treatment Week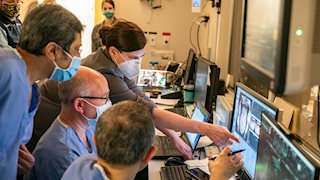 National Addiction Treatment Week, held from Oct. 18-24, 2021, aims to inspire the next generation of medical professionals to treat addiction and save lives. The week also aims to raise awareness about the gap between the number of patients who need addiction treatment and qualified medical professionals available to treat patients using evidence-based approaches. The week highlights the critical need for more clinicians to enter the field of addiction medicine.
At the West Virginia University Health Sciences Center, researchers are working to discover new treatments, as well as how to implement best practices throughout the Mountain State, where many residents suffer from substance use disorder. The Behavioral Medicine and Psychiatry Residency at WVU is also working to bridge the gap between patients and provider access.
Here are just a few ways the Health Sciences community is working to improve the lives of those with addiction issues:
1. WVU addresses addiction crisis with novel ultrasound treatment
The goal of the study, conducted in collaboration with Insightec, is to evaluate the safety and potential of focused ultrasound in reducing substance cravings and addictive behaviors.
During the 30-minute procedure, RNI researchers applied focused ultrasound waves to the nucleus accumbens, a key structure in the brain involved in addiction and anxiety. The research team utilized visuals of drug use and drug paraphernalia to induce cravings prior to and during the procedure. While preliminary, RNI investigators were encouraged by the patient's positive behavioral response to the focused ultrasound and plan to further investigate the treatment by enrolling additional patients in the study.
"COVID-19 has tragically intensified our nation's addiction crisis," Dr. Ali Rezai, RNI executive chair and principal investigator of this study, said. "We need to explore technological innovations such as focused ultrasound to help patients and families impacted by addiction. At the RNI, we are routinely using focused ultrasound as an FDA-approved procedure to treat tremors and are conducting clinical trials to explore its potential for treating Alzheimer's disease and brain tumors."
2. West Virginia peer recovery program proves effective in fight against opioid crisis
About 90% of Americans who need treatment for a substance use disorder don't get it. West Virginia University researchers have developed a program that allows people who have already walked the path of substance use disorder through recovery to be their guides to a healthier life.
In 2017, the WVU School of Public Health responded to this problem by partnering with PSIMED, the WVU School of Medicine, the WVU Collegiate Recovery program, Ascension Recovery Services and the Monongalia County Court System to develop a program to connect individuals who have substance use disorder with peer recovery coaches who can get them the help they need, where and when they need it.
The pilot program they launched—called WV Peers Enhancing Education, Recovery and Survival, or WVPEERS—showed promise. Overall, almost two-thirds of the people that WV PEERS served in Monongalia County (63.9%) accessed services for substance use disorders or mental health problems. More than half (52.3%) entered substance use or mental health treatment. And nearly a third (30.4%) were still in treatment six months later.
"One unique aspect of the program is the tailoring of needs for each participant," said Stephen Davis, an associate professor in the School of Public Health, who helped develop WV PEERS and was main author on the study. "Using this approach, peer recovery support specialists address multiple types of needs, including food, housing, and security, to reflect the fact that a participant may not be ready to enter treatment until these needs are satisfied."
3. Grant aims to reduce overdose deaths by connecting substance users in the emergency department to long-term treatment and recovery resources
Patients with substance use disorder will be able to better connect with emergency department-initiated treatment programs at participating hospitals throughout the state, thanks to a partnership between West Virginia University Office of Health Affairs, Marshall University and the West Virginia Department of Health and Human Resources.
The project, Overdose Data to Action, aims to first screen patients in the emergency department for drug or alcohol use, then provide peer recovery support services, initiate medication-assisted treatment when appropriate, and refer them to treatment and support services that facilitate long-term recovery. The overall goal is to reduce overdose deaths and improve opportunities for people struggling with substance use.
Herb Linn, principal investigator for the project covering the northern part of the state, said the West Virginia strategy is modeled on the Mosaic Group's Reverse the Cycle Program, which has been implemented in more than 30 hospitals across the country.
"The advantage of identifying a model program like Reverse the Cycle is that it's comprehensive. From the time a person enters into an emergency department and presents for treatment, until they're discharged into the community and linked to other resources," Linn said. "It's well designed and tested."
---
More information about WVU's response to the opioid crisis can be found at addiction.wvu.edu. The site is currently being redesigned, so check back soon for updates.