WVU mourns the loss of Dr. Alfred Karl Pfister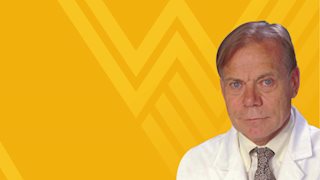 A West Virginia University professor who tirelessly supported the University, its programs and students, and was a beloved physician to thousands of patients over his 50-year medical career, has passed away at the age of 80.
Dr. Alfred Karl Pfister, professor of internal medicine at the WVU Health Sciences Center - Charleston Division, died on July 13, 2017, after a long illness. He was born in Wheeling, West Virginia, to Alfred and Anna Seeger Pfister. He graduated from Washington and Jefferson College, and earned his M.D. from George Washington University. He served his internship at Bowman Gray School of Medicine, completed his internal medicine residency at Charleston Area Medical Center, and a fellowship in infectious diseases at the University of Colorado. From 1966 to 1968, he served as Lieutenant Commander in the U.S. Public Health Service on the Navajo Reservation in Arizona. In 1969, he joined the Charleston Internal Medicine Group. He subsequently became an accomplished leader and educator. During his career, he received numerous awards and recognitions including: Fellowship in the American College of Physicians, Outstanding Clinician Teaching Award, Attending Physician of the Year, Special Recognition Award for Unsurpassed Approach to Medicine and Exceptional Capabilities as a Teacher in the Department of Internal Medicine, the Shawn Chillag, M.D. Attending of the Year Award, and the West Virginia University School of Medicine Dean's Award. He contributed to numerous research publications and was consistently named to Best Doctors in America and Who's Who in Medicine and Health Care in the United States. Recently, he was honored with the creation of the Alfred K. Pfister, M.D. Legacy Scholarship for WVU Health Sciences Center medical students.
Dr. Pfister was a wonderfully devoted father to his children, and an exceptionally loving husband to his wife, Nancy. He was a legendary and beloved physician in our region. He was well known as a humorist, a humanitarian, a healer, and a mentor to all who knew him. Al touched thousands of lives during his 50-year career. His gentle and genuine compassion endeared him to his patients who were ever loyal to him. He was endlessly upbeat and kind, with a mischievous grin and continuous joking, often politically incorrect, but always in fun and never with malice. As a medical educator, he had an encyclopedic knowledge of internal medicine, and was a catalyst for interesting discussion during teaching conferences. He inspired countless medical students and residents to emulate him, the ultimate role model of what a physician should be.
Dr. Pfister is survived by his wife, Nancy Taylor Pfister; his sister, Ann Kurtz of Las Cruces, N.M.; sons, Alfred K. Pfister III of Huntington, Philip G. Pfister of Charleston; daughter, Constance Blanks of Raleigh, N.C.; and grandchildren, Will Blanks, Anna Blanks and Wyatt Pfister. Also surviving are his rescue cats, Slabvenia and Midnight, and dog, Tucker.
The family wishes to thank Dr. Pfister's WVU staff and colleagues, all the emergency room and hospital staff who cared for him during his illness, and especially Dr. Molly John, Dr. Steven Jubelirer, Dr. Ahmed Khalid, Dr. Rayan Ihle, Dr. Hesham Mohammed, Dr. Atul Singh, and family friend and colleague, Dr. Brittain McJunkin.
A memorial service will be held at 1 p.m. on Friday, July 21, in the auditorium of the WVU Health Sciences Center, Charleston Division. The family will greet visitors at 12:30 p.m. and also during a reception to be held immediately following the service.
In lieu of flowers, the family suggests contributions to the Alfred K. Pfister, M.D. Legacy Scholarship Fund, c/o WVU Foundation, WVU School of Medicine / Charleston, Attn: Renee Gorrell, 3110 MacCorkle Ave., SE, Charleston, WV 25304; CAMC Cancer Center, c/o CAMC Foundation, 3414 Staunton Ave, Charleston, WV 25304; or the Kanawha-Charleston Humane Society, 1248 Greenbrier St., Charleston, WV 25311.
For more information: Rachael Trout, 304-347-1254