Culinary and Lifestyle Medicine Track works to provide 'fuel for the future' for patients through health and wellness education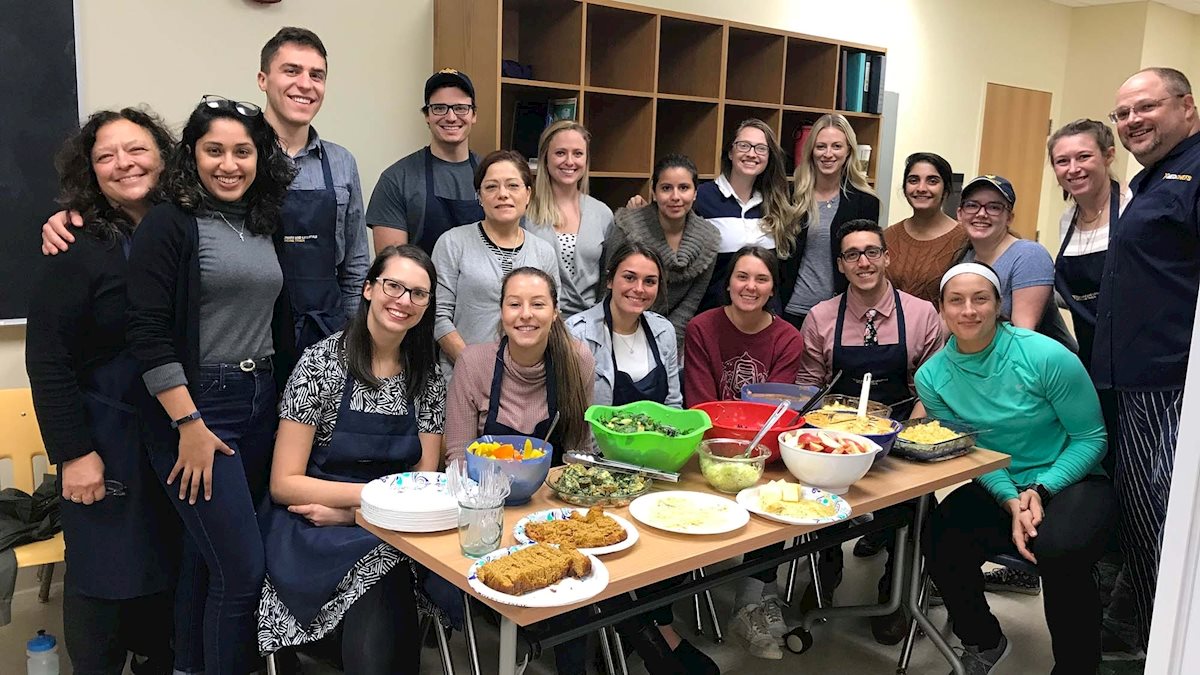 Students in the West Virginia University School of Medicine's Culinary and Lifestyle Medicine Track are encouraging people to "Fuel for the Future," as part of The Academy of Nutrition and Dietetics National Nutrition Month this March.
This year's theme of "Fuel for the Future" focuses on how eating with sustainability in mind is a tasty way to nourish oneself during every phase of life while protecting the environment. One aspect of this is a focus on eating locally-sourced foods.
One local program at the School of Medicine that provides community members with fuel for the future through healthy and locally-grown foods is the Farm to You program.
Along with the CLMT, Farm to You is a program housed at the School of Medicine's Eastern Campus that aims to affect wellness on a community-wide scale. The program provides patients at participating WVU Medicine clinics in the eastern panhandle with access to fresh, locally-grown produce through free, pop-up produce stands at each clinic twice per month from May through November each year.
Patients in rural communities often face higher rates of financial limitations, grocery store unavailability, food insecurity and lower access to health and wellness education. CLMT faculty said this is something they are aiming to change by producing an abundance of culinary medicine specialists to enter the workforce in rural areas.
"Having a physician who has expertise in culinary medicine becomes increasingly important in rural, health-despair communities," said Madison Humerick, M.D., an assistant professor of family medicine. "Residents in rural areas of West Virginia may be hard-pressed to find nutritionists or dietitians in their county. By having physicians who have knowledge of the four pillars of health as certified culinary medicine specialists, we are able to bridge the gap in communities that do not have equal access to health care."
Students who graduate from the CLMT program are equipped to teach community members in need the skills to make food stretch, how to make recipes more health-conscious on a budget and how to grocery shop.
"Being a physician is not only about detecting and treating disease, it's also about educating those in need on how they can keep well so they can keep on going," Rosemarie Cannarella Lorenzetti, M.D., MPH, a professor of family medicine and the associate dean for student services on the School of Medicine's Eastern Campus, said.
These adaptations could be as simple as using fresh/in-season fruits and vegetables that might be more readily accessible, or simply shopping for the best sales and building a menu around what works for the patient's budget and lifestyle, according to Dr. Lorenzetti, who co-directs the program alongside Dr. Humerick.
"The Culinary and Lifestyle Medicine Track emphasizes the importance of educating patients on healthy lifestyle choices that they can easily adapt to their lives," explained first-year medical student Lee Madruga. "Through educating our patients on these lifestyle and dietary changes we can help prevent chronic diseases, giving our patients the fuel for a healthier future."
The CLMT program aims to increase the number of physicians with an understanding, appreciation and skill development in the four pillars of wellness: nutrition, physical activity, restorative sleep and stress management. Students in the track also contribute to outreach efforts across the state by conducting hands-on food prep sessions for members of the community and students at local schools.
Lorenzetti added that a number of chronic diseases identified by the CDC as the top leading causes of death in the United States can be positively affected by a commitment to better nutrition and lifestyle management practices.
"Something we teach our students and talk about with our patients is playing the 'long game'," Dr. Humerick said. "If you take the time to fuel and heal your body from a young age across all four areas of wellness, you can set yourself up for a better future."
To learn more about the WVU School of Medicine's Culinary and Lifestyle Medicine Track, visit medicine.wvu.edu/culinary.