Events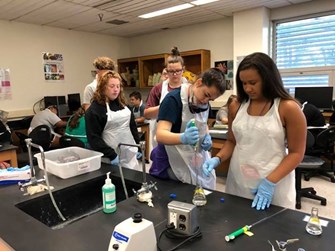 HSTA hosts a number of events each year, including Summer Camps, Science Symposia, Professional Development, Joint Governing Board meetings, and Spencer & Hostler Awards. Learn more about each of the opportunities below: 
Summer Institute
At Summer Institute, students will spend a week (or three, if you're a senior) taking classes, attending workshops, going on field trips, making friends, and having fun. You'll find out what it's like to live on a college campus. You'll learn skills you need for college. You'll get to know HSTA students from other parts of the state. And you'll spend one-on-one time with HSTA teachers, field site coordinators (FSCs), faculty, staff, and mentors. 
Symposia
The State Science Symposia are held on various college campuses in early spring. The venues provide opportunities to showcase the programs, staffs and facilities unique to each college. Most importantly, symposia allow students and teachers the opportunity to reacquaint, as well as meet other HSTA participants from across the state, while sharing the results from their community research projects.
Professional Development
HSTA offers teachers, field site coordinators, governing board members, and staff regular opportunities to participate in professional development workshops and retreats. 
Joint Governing Board
The HSTA Joint Governing Board (JGB) manages the program by setting policy, developing program and procedural elements, and executing the legislative action that grants tuition waivers to HSTA graduates. Board meetings are held quarterly. 
Hostler & Spencer Awards
Each year, awards are given in honor of Stanley Hostler and Sara Spencer. Hostler was a friend and avid supporter of HSTA from its inception. He volunteered countless hours and was a fierce champion and advocate for the program. Sara was a 13-year-old student and member of HSTA in Kanawha County. She had completed her first State Science Symposium and was looking forward to the beginning of summer when she was tragically killed in 1998.