Four WVU School of Nursing students selected for study abroad scholarships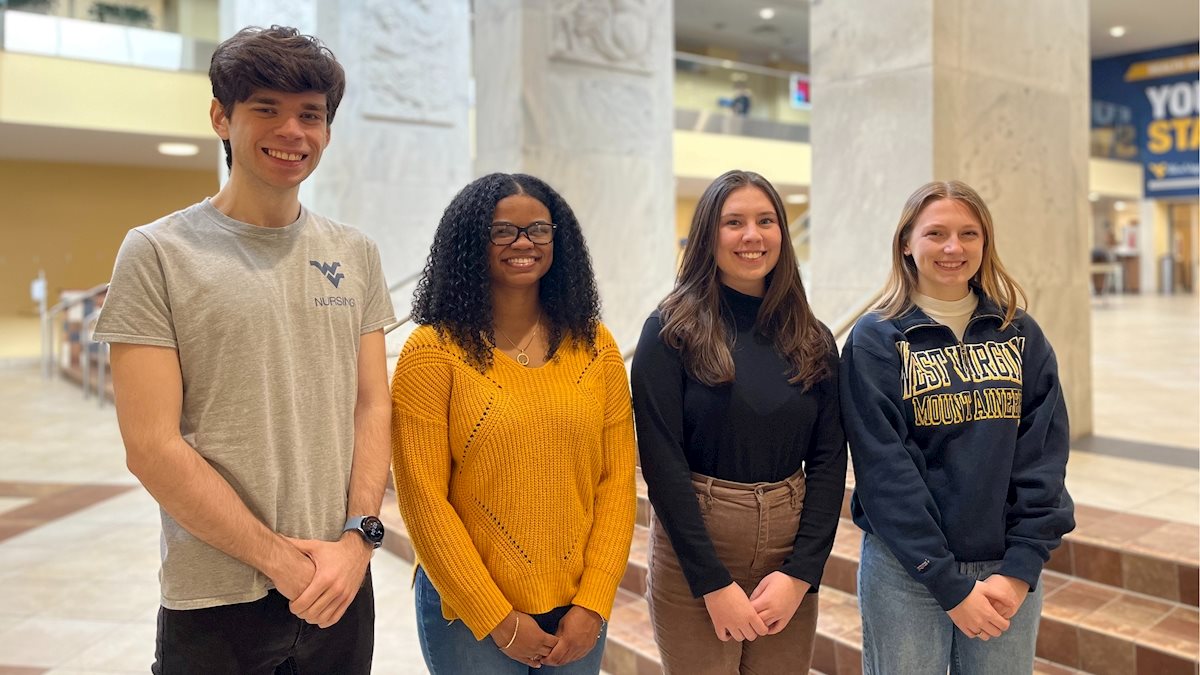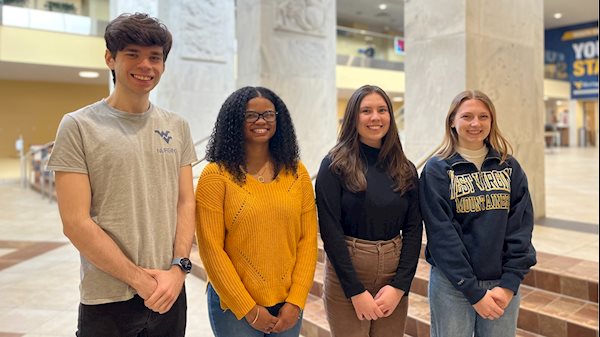 Pictured from left: Ty Flynn, senior; Ateria Walker, senior; Meredith Maneno, junior; and Maleah Cline, junior.
Four students at the West Virginia University School of Nursing have been selected to receive study abroad scholarships. Ty Flynn, Meredith Maneno and Ateria Walker will study abroad in London, and Maleah Cline will study abroad in Estonia.
"UK: Healthcare and Nursing in London" will take place May 22-28, where students will gain insights into Britain's healthcare system. During the trip, they will learn and observe techniques during the early history of medicine in England, take a guided tour of the Florence Nightengale Museum and the nursing school she founded, and visit other noteworthy sites related to nursing and culture.
Students will be accompanied by faculty leaders Dana Friend and Susan Pinto during the London study abroad trip.
Flynn, a senior in the Bachelor of Science in Nursing (BSN) program, had initially planned a study abroad trip to Spain, but it was canceled due to the COVID-19 pandemic. He said he is especially grateful for an opportunity to utilize his scholarship in London, as he has never been abroad before.
"Traveling abroad in the safety of academic advisors will help me to safely broaden my horizons and experience new things," Flynn said. "Nursing is all about making your patient feel comfortable in your care, and you can't do that without first understanding their culture to guide your care. I hope that I am able to go on many more trips after this and to explore other cultures firsthand so that I may be able to give more compassionate care to the patients I serve."
Maneno, a junior in the BSN program, said she is looking forward to learning more about healthcare outcomes in a privatized system, especially how that system affects the pediatric population, and how those outcomes compare to the U.S.
"Childhood poverty, interrelated to racism, is an ever-present crisis across the world. As a future pediatric educator, it is essential for me to educate future generations of nurses to interpret and evaluate health disparities related to these burgeoning factors that have a substantial impact on morbidities and mortalities for children," Maneno said. "With the scholarship, I will have the opportunity to see first-hand what pediatric medicine looks like in a country with universal healthcare."
For Walker, a senior in the BSN program, she is most excited about touring many of the historical sites located in London such as the Florence Nightingale Museum. She is especially hoping to learn more about the foundation of nursing from the early history of medicine in England.
"This opportunity will help me in my future career by allowing me to learn nursing techniques from a different healthcare system which will allow me to compare the similarities and differences between Britain and the United States' healthcare systems," Walker said.
"Estonia: Public Health in the Baltic Region," hosted by the WVU Aspire Office, will take place during the 2023 WVU Spring Break. Students will learn about contemporary culture in Estonia with a special focus on public health policies and initiatives, including those relating to the opioid crisis, pandemic response, and other systemic health problems in Estonia society.
Cline, a junior BSN student, said she is excited to experience a different culture, especially because she has never traveled outside the country. She said she is also excited to learn more about the healthcare system in another part of the world.
"I also want to learn more about the effects COVID-19 had on that specific part of the world," Cline said. "This opportunity will allow me to consider different cultures when exploring my nursing career and expand my knowledge, which I can use to educate others and apply to different areas in the future."
Friend said as the coordinator of global programs for the WVU School of Nursing, she is delighted that students have the opportunity to experience nursing and public health in countries around the world through these scholarships.
She added, "These global experiences enable students the ability to learn about cultures, healthcare systems, and nursing in unique settings outside of the hospital and their comfort zones that will further enrich their nursing care."
To learn more about other opportunities, please visit our Study Abroad & Global Outreach page.