HSTA virtual summer camps to impact students in rural West Virginia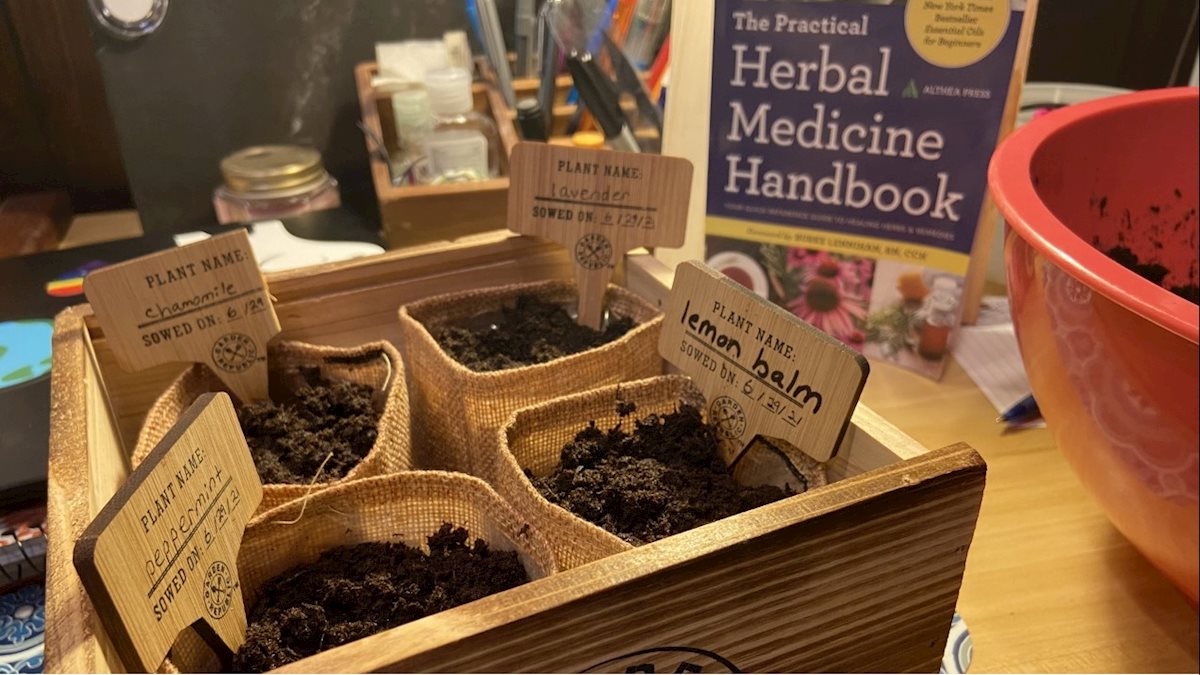 West Virginia University's Health Sciences & Technology Academy (HSTA) is holding virtual summer camps to help empower high school students in rural West Virginia.
The camps encourage students to take their health into their own hands by identifying healthy food options at the store, preparing healthy meals, and being aware of the natural and wholesome options out there.
"I hope that the students look at their backyard and see it as a potential garden instead of an empty yard," said Christina White, lead student volunteer of HSTA Summer Camp: Nutrition, Indoor Gardening, and Herbal Remedies and past Rural Undergraduate Shadowing in Healthcare Program (RUSH) participant. "I hope they become leaders in their own communities to promote health for their own life and the lives of others."
Due to COVID-19, this year's summer camps are being held virtually. The HSTA Summer Camp: Nutrition, Indoor Gardening, and Herbal Remedies, taught by Christina White, Grace Maley, Levi Smith, and Eva McFarland, was held June 21 through July 2, with seven high school participants. This camp focused on gardening and nutrition, and each student received a gardening kit to grow their own herbs and an herbal medicine handbook.
"We do a lot more than just gardening and growing our own herbs — we also focus on nutrition, hands-on projects, make healthy recipes, and learn healthy eating hacks," White said. "The goal of this camp is to realistically be healthy with the resources you have and focusing on natural remedies."
West Virginia has some of the most fertile land, but with limited infrastructure, fresh food can be scarce across the state. One student explained that there are only fast food restaurants in her town. These students have to work with what they have, but they can make food from their garden and create something with their own hands, White explained.
"The impact that the camp had on me was that I was able to learn a lot about herbs and how they are helpful in different ways," said Kendall Itobi, a camp participant. "I also learned about the tricks behind food labels. Now, instead of having to search what helps with pain, I can easily go to the index of the herbal book we received during camp and find the herb I am looking for. I am grateful that I was able to take part in this year's HSTA summer camp and happy that I learned so much."
This summer camp prepared students by showing them healthy food options and alternatives. Now these students can implement this in their lives even after the camp.
"In a place where you look around and see unhealthiness as the norm, it is important to know that it should not be the norm," White said. "I want these students to see that they can be healthy and successful with the tools they have in their community."
Christie Zachary, Program Manager for Student Outreach and Marketing, WVU Institute for Community and Rural Health, says it is important to introduce STEM-related curriculum to students as early as possible, especially in a way that is connected and useful for them to incorporate projects and concepts into their lives and communities.
"Most importantly, these camps are about inspiring discovery, innovation, and hope," Zachary said.
HSTA is a partnership among communities and numerous colleges and universities in West Virginia. The program focuses on increasing the number of under-represented students who pursue degrees in Health Sciences and Science, Technology, Engineering, and Mathematics (STEM) fields, with the long-term goal of increasing the number of health practitioners and advocates in the medical field locally.
-WVU-