HSTA Shout Outs
The HSTA family wanted to take a moment to shout out to some individuals for their hard work and dedication during this unprecedented time. 

Congratulations Ny'Aisa! Ny'Aisa plans to attend Marshall University to pursue her degree in Veterinarian Medicine. #collegebound
Congratulations Ny'Aisa! Ny'Aisa plans to attend Marshall University to pursue her degree in Veterinarian Medicine. #collegebound
HERE'S A SHOUT OUT TO: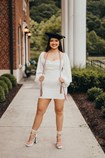 Congratulations to
Farrah Marielle Rose
, PharmD
Farrah is a 2016 McDowell HSTA graduate and 2022 graduate of the Appalachian College of Pharmacy. McDowell HSTA alumni are doing great things!!!
Aliyah Pelley from Ohio/Marshall HSTA
Dr Christopher Taylor, HSTA Graduate from Ohio/Marshall County HSTA Clubs
HSTA and especially Darlene Stradwick says Thank you, for giving back to HSTA!
Your comments at Symposium 2022, were well received by students!
They were inspired!!                                                                                                               
Jude Brenya in Harrison/Mon/Marion HSTA Club:
The HSTA teachers would like to acknowledge Jude Brenya, for working so hard this year for becoming one of the two top Honors Math student. 

He has learned to take time and work hard on his homework. His math paper looks like it came out of a textbook, he has learned to explain every step in detail. Keep up the hard work and remember our HSTA teachers are always here to help you. Our HSTA teachers are awesome!! 
D'Eryah Stewart, Makayla Hall, Jada Williams, Jaylie Green, Markayla Moore(Cabell/Lincoln HSTA) and Sanaa Brodie  
Congratulation for winning the Donovan D. Edwards 2nd annual "Get Get Going" $250.00 Scholarship...
Makel Galloway from the Ohio/Marshall HSTA Club
Wheeling Park High School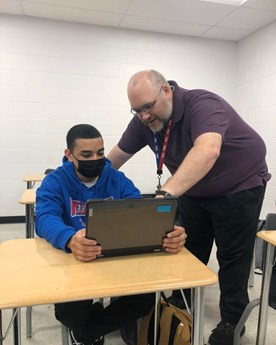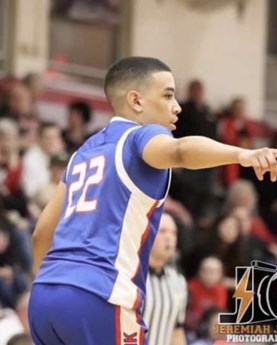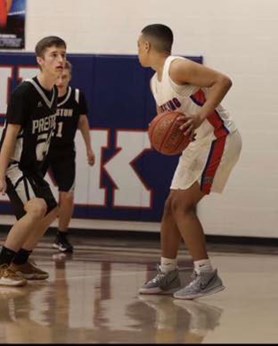 Wheeling Park High School recently spotlighted Ohio-Marshall HSTA student Makel Galloway: "We are shining the spotlight on a Patriot student-athlete who goes above and beyond. Makel Galloway is a senior at Wheeling Park who takes his education to the next level. He is involved in a variety of clubs and community organizations, all while maintaining a varsity spot on Wheeling Park's Varsity Basketball team and high academic excellence.
"Makel's basketball career began when he was five years old, and he has continued to play through elementary, middle, and high school. He is a co-captain of Wheeling Park's Boys' varsity basketball team and his teammates see him as a valuable asset. Fellow team member, Caleb Francis says, "he is a great friend who keeps me on my A-game and brings high energy to every game and practice." Team member, Cole Wilkinson, says, "he pushes everyone to play at their best no matter the circumstances." Being an impressive basketball player is not where his talent ends. He is also extremely dedicated to his extracurricular clubs and volunteer activities.
In addition to setting a good example on the court, Makel also excels in the classroom. Makel is a member of Drug-Free Clubs of America, Beyond Education, and HSTA. HSTA encourages underrepresented high school students to pursue careers in the STEM field. Ms. Zumbrunnen is an English/Language Arts teacher at Wheeling Park and is also a HSTA advisor. She says, "When this eager-eyed young boy entered our HSTA program as a freshman, he gave 110% right from the start. Makel maintained that energy throughout the years working on research projects, volunteering at the Ohio County Fair, and mentoring our younger members."
Because of HSTA, Makel will be able to pursue a career in the medical field after high school. He says that going into the medical field has always been his goal. "It would enable me to give back to my community and help those in need, which is very important to me." Specifically, he is interested in pursuing a career as a physician's assistant or a physical therapist. He is currently undecided on what college he will attend, but he will be staying in West Virginia at the conclusion of his time at Wheeling Park."
Sophia Lipscomb, Mercer County HSTA
Yvonne Harris and all of HSTA sends a shout out too:
Sophia Lipscomb, PSHS students is the valedictorian of her class.
Roane/Calhoun County
This is Roane County student, Melissa Ashman. She started her residency in family medicine at Marshall University.
Ashman's residency will be three years long.
Madison Hairston, from the McDowell HSTA Club meets U.S. Vice President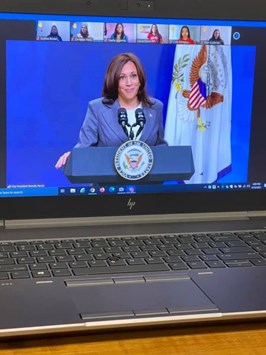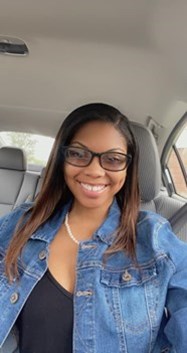 Congratulations to Madison Hairston, Mountain View HSTA Student was chosen to represent her school in a Zoom meeting with the Vice President.

Hairston said, "I am so proud to represent Mount View's Class of '21!"